Noise, Vibrations and Fumes
by The Bitter Roots
Buy Noise, Vibrations and Fumes
The Bitter Roots are a Seattle-based group that has developed their own distinct brand of rock/pop as portrayed on their recent LP Noise, Vibrations and Fumes. Each track on this 11-song LP is a bit different from the last built upon strong, guitar-driven, rock-oriented sounds inspired by punk, metal, and garage rock, all accompanied by quirky, Â poetic lyrics.
The group was formed in 2008 by Misoula, Montana natives Jeff Stetson and Ben Koostra. Vocalist and guitarist Stetson had spent a half decade in the group manSaveman, releasing four albums along the way. Koostra was the original drummer for the groups Ein Heit and Silkworm. In Seattle, Greg Thomsen was enlisted on bass and backing vocals harmonies. Over the course of the group's first four years, they released three albums, starting with The Bitter Roots in 2009, followed by Moral Hazard in 2010 and Chiaroscuro in 2012.
Noise, Vibrations and Fumes was developed over the better part of a year working on songs that Stetson had been composing over several years. Like the group's three previous albums, this record was recorded at the independent Water Works Hill Studios in Seattle, with this latest one mixed by Floyd Reitsma at Studio Litho.
Noise, Vibrations and Fumes

by

The Bitter Roots
Released: March 3, 2015
Produced by: The Bitter Roots
Track Listing
Primary Musicians
Fast and Slow
Too Many Freds
Sometimes
Habemus Papam
Go
Wondering
Dairy Queen
Simple Things
Butterfly Baby
Paper World
The Precious
Jeff Stetson
Lead Vocals, Guitars, Keyboards
Greg Thomsen
Bass
Ben Koostra
Drums, Keyboards
The opening track "Fast and Slow" is set up with thumping rhythms for nearly a full minute before song kicks in to verse. Stetson says he wrote this during a time when he wasn't getting much sleep and the lyrics reflect this as they are partially about reflection and partially about obsession. The title to the excellent track "Too Many Freds" was inspired by the fact that multiple extended family members had the first or middle name "Frederick", while the lyrical content tells a more direct story. Musically, the tracks starts with a consistent beat and a ringing alternative guitar pattern and slowly builds towards an excellent listen, especially when the overdubbed guitar lead comes in. The harder-edged "Sometimes" follows as a Foo Fighters like modern rock song, which borders ever-so-slightly on classic heavy rock.
"Habermus Papam" (Latin for "We Have a Pope!") features a short, complex intro that leads to upbeat rock which works to a degree, albeit not as effective as album's first three tracks. On the next track, a drum intro works its way with riffs and rudiments traded by guitar and bass, before the initial "Go" launched the anthemic theme of this bombastic rock song. "Wondering" starts almost as a ballad-like track but, after a couple verses, the song takes a turn and it picks up the pace with a shuffling bass and an overall jazzy feel. "Dairy Queen" is an updated love song, written by Stetson for his wife Amy (who he first met at a Dairy Queen). It features a consistent drive with some interesting interludes which are very creatively crafted together.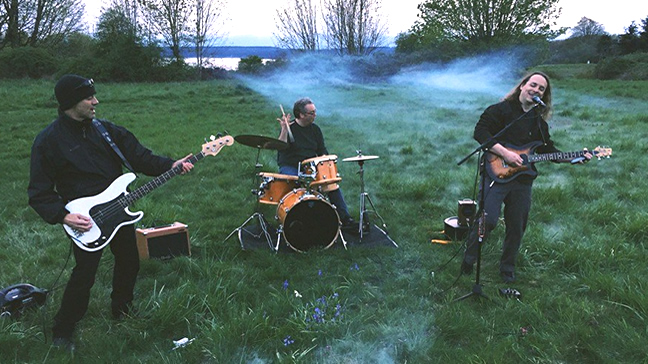 As the album winds down, it only gets more interesting with some of its strongest tracks. "Simple Things" is built on a strummed acoustic with slight organ-like keys from Koostra. Pleasantly sung and performed, it is sort of The Kinks meets Elvis Costello with philosophical lyrics about life and death. The simple and innocent "Butterfly Baby" is another excellent song with  finely layered guitars. During the intro to "Paper World", the song seems a bit unsure of itself, but it soon settles into a thick, spacey groove. The lyrical theme talks of the "hard copy" world beyond the Internet. "The Precious" closes things out with a rotating acoustic riff accompanied by a stream-of-consciousness lyrics and melody.
The title Noise, Vibrations and Fumes was inspired by the building boom currently happening in Seattle as well as the uncertainly of the affordability and standard of living in the city's future. Since the album's release early last year, The Bitter Roots have continued to perform in the Pacific Northwest and Stetson has composed material for a future album which is earmarked for a 2017 release.
~
The Bitter Roots online

  

  


The Bitter Roots website
Buy Noise, Vibrations and Fumes