The Steppin' Stones are a hard rock trio from South Carolina consisting of members in their late teens and early twenties. The group is led by 18-year-old vocalist and guitarist Hannah Wicklund who delivers melodies and styles from multiple genres with both expert precision and original adventurism. In fact, for how young the members of this band are, it is astonishing how they achieve such a mature rock sound on their 2015 self-titled album. This entertaining new album, their second full length offering is a solid music statement from beginning to end.
Wicklund began performing live in 2006 at age nine, performing classic rock covers in a Hilton Head, SC based group which would become The Steppin' Stones. An advanced student, she graduated High School at the age of 16 even though she had played over 1,000 shows by that time. Through its early duration, the group had a rotation of drummers with Ryan Tye being an on-again, off-again member since 2007. In 2013, bassist Andrew Ottimo joined the group, bringing with him some vocal and songwriting talents as well as a distinct slap-bass style. That same year, the group released a six track EP titled Handle Me, followed by their first full-length album, Looking Glass, in 2014.
For their latest LP, the group dedicated a few months to write songs on Hilton Head Island before moving to Echo Mountain Recording Studios in Asheville, NC with producer Jon Ashley. This top-notch recording has been cited by Wicklund as, "our first legitimate studio album".

The Steppin' Stones

by

The Steppin' Stones
Released: April 26, 2015
Produced by: Jon Ashley
Track Listing
Group Musicians
All Caught Up
False and Hollow
Givin' Into You
I'll Take Mine
Stranded
Soul to Sell
Friends With the Dark
Off Track
Mama Said
Hannah Wicklund
Guitars, Vocals
Andrew Ottimo
Bass, Vocals
Ryan Tye
Drums
The album begins with, "All Caught Up", featuring crisp hard rock with a bit of Southern twist and a just a slightly dark overall feel. This well arranged track has a very strong guitar presence by Wicklund and the lyrical hook of "Green Grass and High Times", a nod to the Rolling Stones. "False and Hollow" starts off mellow and dark but kicks into a much rowdier track after the first chorus when Tye's marching drum shuffle accompanies Wicklund's slight guitar lead before the second verse continues the song proper. A second, more intense and creative lead section comes later, guided in by Ottimo's rumbling bass. "Givin' Into You" is a true, slow rock gem with guitar playing creative half riffs to let the bass breathe through during the verses and soulful and soaring vocals during the entirety of the song. This slightly bluesy, pure rock track is infectiously catchy from beginning to end.
"I'll Take Mine" is one of the more pop-oriented songs on the album, featuring an interesting drum beat which finds space between the chanting vocals and good, solid harmonies. "Stranded" has a definitive punk vibe and features Ottimo on lead vocals, while also providing a heavily distorted bass to match his strained vocals in this definitive departure by the band. On "Soul to Sell", the group moves in the opposite direction with a blend of acoustic and electric guitars on a track which is slightly R&B, slightly jazz, but mostly a Bonnie Rait-esque Country Blues song.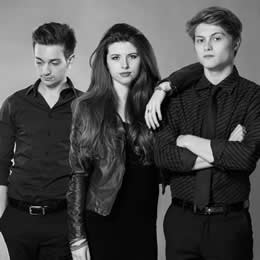 The final stretch of the album begins with "Friends With the Dark", a steady and deliberate blues track with an extra heavy guitar presence by Wicklund. The song uses timing and stops exceptionally well for maximum effect and to highlight the various strong elements of this song before the track reaches its conclusion with a succinct but effective guitar lead. "Off Track" is, unfortunately, an apt title as this is probably the weakest track on the album, still entertaining but not as rich compositionally as the rest of the material. The album rebounds with the closer "Mama Said", featuring a strong hook above a steady, thumping beat. During the verses, the song is a melodic, country-flavored track with complex vocals, animated bass, and a fantastic lead guitar to finish the song and the album.
Shortly after the April 2015 release of The Steppin' Stones, Dye departed from the group and was replaced by Justice Ian Jones on drums. The band has also recently relocated up the coast to to Charleston, SC, where they continue to perform shows on a regular basis as well as write new material for an expected 2016 release.
~
Steppin' Stones website
Buy The Steppin' Stones album