Knuckle Sandwich
by The Melatauns
June 28, 2015
by Karyn Albano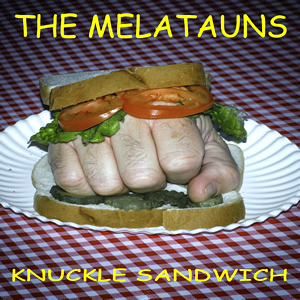 Filled with really cool musicianship playing authentic New Orleans music with an air of celebration, Knuckle Sandwich is the latest and greatest release by The Melatauns. The group is led by bassist Robert Snow and vocalist Pat Ricks who co-wrote and arranged the material on the album and lead a revolving group of talented New Orleans backing musicians. Together, the group plays a diverse mixture of jazz, funk, and blues, with just a splash of new wave style rock added to the mix to make it all totally unique in vibe and delivery.
Knuckle Sandwich is the second full length album by the group, following 2013's Bards of Melatonia. Snow and Ricks started the recording process for this new album just a month after the release of their debut at Suitemix studio in Slidell, LA with engineer George Cureau.
Working musicians from about 10 different local groups were brought in to record the album, many of which rotate into roles when The Melatauns play live gigs. Snow comes from a family of musicians, a few of which he enlisted for this project, including his 73-year-old father, Sidney Snow, who has played with such legends as Elvis Presley, Otis Redding and B.B. King. The album also employs some New Orleans working horns such as trumpet player Ian Smith and sax players Dominique Grillo and Bruce Brackman.
Knuckle Sandwich

by

The Melatauns
Released: April 21, 2015
Produced by: Robert Snow, Pat Ricks & George Cureau
Track Listing
Primary Musicians
All The Little Thing
Trip
Evette
Dirty Lies
Strange
The Poo Poo Song
Arguing With Jennifer
Timing
Knuckle Sandwich
Sleeping
Outta Be in The Quarter
Pat Ricks
Lead Vocals
Robert Snow
Bass, Guitar, Vocals
The opening track, "All The Little Things", features Robert's cousin Ronnie Snow on guitar along with an old-time, fifties upbeat with swing beat, sweeping horns, and powerful vocals by Ricks that run the gamut from crooning to screaming. "Trip" also has a nice mixture of horn and sax leads. This song is not complicated but, with a great bass groove By Robert Snow, it portrays a soulful yet bluesy, James Brown-esque feel.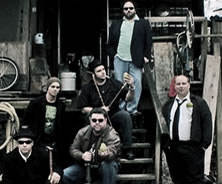 "Evette" is a real highlight for the early part of the album. Ricks' simple but effective melody is used in tandem with cool groove with lyrics that paints a portrait of a hipster girl moving through the French Quarter, trying to save the planet in her own way. Snow claimed this song kind of wrote itself as he woke up one night singing the lyric "Smoking on a clove cigarette", which may be the catchiest hook on the whole album. This cool groove along with a little free-form jazz in background works to give the song a real edge.
Changing things up, "Dirty Lies" is a real departure as an eighties-style, new wave rocker, feature more strong electric guitar licks by Ronnie Snow and keyboards by Casey McAlister. "Strange" follows as boilerplate and clichéd classic blues with desperate vocals delivering desperate lyrics such as;
"Ain't got no prospects, just got lint in my pockets…
Life can be hard with no credit card…"
Although it has a decent musical vibe, "The Poo Poo Song" has a terrible title and absurd theme which may detract from the other fine music on the album. But things do recover nicely with "Arguing With Jennifer", featuring an almost ska approach with an upbeat and direct theme. Randall Bosarge provides drums that give this song good rock definition, especially during a couple of nearly free-form solos. Starting with a siren effect, "Timing" is a short track with a pounding beat, strained vocals, and a cacophony of other sounds before it fades out awkwardly.
"I'm gonna give you a knuckle sandwich and put it in your mouth, you told my girlfriend she should be yours and guess what? she sold you out!"
The creative and entertaining lyrics of the title track, "Knuckle Sandwich" starts the final stretch of the album. The song has a sparse rock arrangement, featuring the smooth guitars of Sidney Snow an drumming of Anthony Donado. The Motown influenced "Sleeping" is like a bluesy lullaby, featuring Snow's rotating bass with mimicking brass and inventive guitar chording by Snow. "Outta Be in The Quarter" is a fun romp through Mardi Gras. More of a theme than a traditional song, this closing track seems to be custom made for a parade where the same theme repeats as one passes through the crowd.
Snow takes pride in the fact that no there are no professional studio musicians on this record, just working live musicians from a city rich in musical history. Snow himself currently plays in four different groups, ranging from traditional jazz to "swamp pop blues". The goal when he and Ricks started Knuckle Sandwich two years ago was to improve on the sound established on Bards of Melatonia and they certainly have seemed to accomplish this.
~
TheMelatauns.com
FrenchmenStreetMusic.com
Buy Knuckle Sandwich