Tales of the Aftermath
by Courtney Chambers
Courtney Chambers brings music to a place many artists grasp towards but can't quite reach. Her fourth album, Tales of the Aftermath, bluntly and artfully expresses sentiments that most everyone can relate to. It is masterful in its simplicity but poetic in its deliverance. Â Chambers' s vocals are the core of the songs, dressed with music but not drenched in it. That's not to say that the music is not good, in fact it is quite impressive. But the songs on this album would be just as potent without the top notch arrangement and production.
Starting in 2001, Chambers released three albums on her independent label, Royal Daughter Records, with her debut, Imperfect Like Me, released that year. She followed that stripped-down release with the full band arrangement of 2004's Higher Places, an album which Chambers self-produced. She first worked with producer and multi-instrumentalist Sean Hoffman on the studio record, Bigger and Brighter,  which received wide critical acclaim upon its release.
Chambers began writing and recording demos of new material shortly after the 2007 release of Bigger and Brighter but wasn't particularly fond of all the songs. She says that she was "having severe writer's block and trying to force the music out". Much of the early recordings were lost in a computer crash, which in retrospect turned out to be a fortuitous occurrence as it gave the material (and subsequent new songs) time to emerge and fully develop. After a multi-year hiatus, Chambers and Hoffman returned to the studio and with fresh ears and a reinvigorated approach resulting in a record far exceeding their expectations.
Tales of the Aftermath

by

Courtney Chambers
Released: September 16, 2015
Produced by: Sean Hoffman
Track Listing
Primary Musicians
Fool In Me
The Bitter End
Love and Music
Forget the Gloom
Young Lovers
Extraordinary Lives
Heart of This Man
Wasting Time
Rush In
Winter
Courtney Chambers
Lead Vocals, Guitars, Piano, Keyboards
Sean Hoffman
Guitars, Bass, Keyboards, Percussion
Joey Galvan
Drums
Each of the ten tracks on, Tales of the Aftermath, were composed by Chambers with some contributions from Hoffman. The opening, "Fool In Me", sets the theme of the album with intense, bluesy vocals belting out lyrics about getting over a past love to a steady, plodding beat by drummer George Sluppick. It conveys an overall feeling of going through the motions while you're trying to wrap your head around what is going on;
In all the beauty and all the pain, can't say I regret a thing, I can finally feel the peace washing over me…"
"The Bitter End", has a more modern vibe with deadened guitar notes and a slight synth in the atmospheric background. The rich but minimalist production provides emphasis on the vocal and the emotionally charged lyrics about overcoming an abusive situation. The heavy guitars return for the intro of the melodic and moody "Love And Music". The song blossoms into an ode about the appeal of music over human relationships, as the protagonist concludes that music provides a more reliable emotional connection. "Forget The Gloom" starts with strummed acoustic and steady, snare-heavy drums with some wild, phase-effected guitar. After the first verse, it breaks into a more upbeat track with many more diverse sonic treats including slight piano and slide bass. The lyrics are about coping with a sense of abandonment but contain a quirky brightness in the melody and rhythm.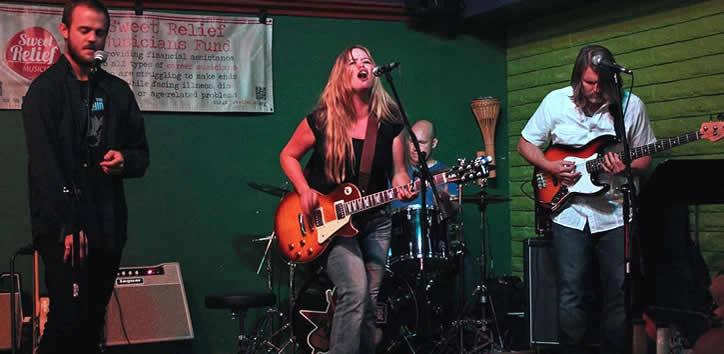 "Young Lovers", takes yet another stylistic turn, almost sounding like early nineties grunge in its slow slosh through the verses with lyrics about a woman who is clearly in the wrong relationship. "Extraordinary Lives", is one of the most interesting and rewarding songs on the album, filled with richly textured mixes and a heavy drum presence by Joey Galvan. Chambers wrote this one for her daughter, Madeline, and admits that she wept as she wrote it;
Don't bother living in fear, all we need is right here / You're the bravest girl I know, never afraid to let your heart show…"
"Heart Of This Man", is a breathy piano ballad which, at times, seems like it is about to emerge to a larger arrangement but craftily remains simple and stripped down with a beautiful, soulful vocal. In contrast, "Wasting Time", is a loose and upbeat song with lyrics about having fun without worrying about consequences or emotions getting in the way. "Rush In", is built on an interesting, descending acoustic riff with several dynamic sections, led by the excited lead guitar of Hoffman and fantastic melodies. Chambers says this was her song to the Universe and opening to it's joy, possibility and color. The closing track, "Winter", provides the perfect ending to this heart wrenching yet inspirational collection of songs. Musically, this finger-picked acoustic ballad features some more reserved effects, most especially the slight cascade of several guitar effects, forwards and backwards, in all of about 5 seconds. Thematically this is stark and cold, not a bitter cold but a refreshing cold, with lyrics about enduring a dark period only to emerge on the other side as a stronger person;
Time makes a better woman, I'm waiting for my turn / So fine, if you got the matches, got some bridges we can burn…"
Throughout Tales of the Aftermath, Courtney's vocals are center stage but she never gives in to the the vocal exercises of trying to hit every note, instead finding the perfect vocal expression suitable for each theme. Currently, Chambers is performing and promoting the album as both a solo acoustic act and with a full band arrangement. She will be releasing a video for, "Extraordinary Lives", in December 2015, with plans to record some live material in 2016.
~
Courtney Chambers website
Buy Tales of the Aftermath