We celebrate the one year anniversary of our Choice 5 series with a look at five full-length albums with diverse sub-genres and styles and from various locations around the world.
---
Hi Fi or Die is the energetic and well-produced album by Croatian group Kevlar Bikini. While the majority of the tracks are raw and fast paced-quasi punk, they contain a somewhat nice, rounded edge which makes it both strong but intense. "Hoax Revolution" has a built in call-and-response section, while "Summer of Hate" has interesting dynamics between the rhythmic bass and surf-inspired guitar and "Twisted by Sesspool" is an infectious, upbeat rocker.

  


Buy Hi-Fi Or Die
---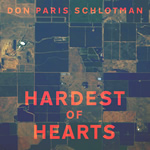 Hardest of Hearts by Don Paris Schlotman
Brooklyn's Don Paris Schlotman calls his solo album, Hardest of Hearts, a "minimalist rock concept album about trying to understand what it means to be human." The album is filled with narrative songs accompanied by a strummed guitar or two and some slight rhythmic or synth effects for extra flavoring. Standout tracks include the spacey opener "Vaporize the Sun", the melodic "Civil Service", and the dark and desperate "Revolver".

  

  


Don Paris Schlotman website
Buy Hardest of Hearts
---
My Own Ghost is a five-piece rock band from Luxembourg, led by the dynamic vocals of singer Julie Rodesch along with the potent musical motifs. Right from the jump, the lyrics of "Crimson Ground" ("there will be no more blood today…") set the pace with a good duo guitar lead and a hard rock edge that falls just short of heavy metal. Other highlights on the album are the melodic "Waiting In the Wings" and the potent bass-led "Bad Love".

  

  


My Own Ghost website
Buy Love Kills
---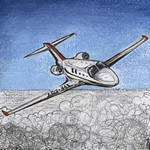 Private Jet Flashback by The 1957 Tail-Fin Fiasco
Theatrical themes with deep, Steely-Dan-esque jazz roots, The 1957 Tail-Fin Fiasco has released an entertaining album with lots of name dropping in the lyrics and elaborate song titles like "Jackie & Norm and The Hairdresser To the Star" and "I Love The Smell of Bacon In the Morning". While some of this pop culture indulgence may seem almost satirical, the music itself is extraordinarily composed and produced with a plethora of supporting instrumentation brings the whole production up to the top level.


The 1957 Tail-Fin Fiasco website
Buy Private Jet Flashback
---
Pesaro, Italy is home to the rock band Siren, who plays a hybrid of 90s alternative and modern rock on their album The Row. The most striking early track on this album is "Dr. Saint" and its soaring vocal melody, with other standouts including the dynamic "Track 92", the frenzied dance rocker "Love Is Gone" and the complex but entertaining track, "Roger Sabbath".
---
See you on Sunday, July 5th for the next installment of Choice 5!
~
Modern Rock Review's look at 5 new album and EP releases, published on June 5, 2015.