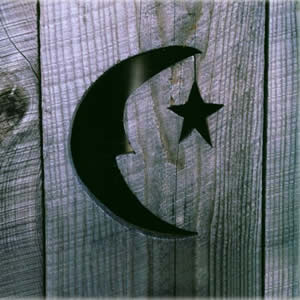 The last studio album before the group's temporary breakup, Phish recorded a rootsy and accessible effort with Farmhouse. The songs are much more fully developed than most of those on the group's previous seven studio albums, which tended to be base grooves for Phish's live jams. As such, the album was met with mixed reviews and tepid immediate response by the group's die-hard fan base. However, the years have been kind to this album and a decade and a half later it is viewed as a solid record as well as our Modern Classic for May 2015.
After the band enjoyed increasing popular and critical acclaim through most of the nineties, the group released an album made purely of improvisations in 1998 called The Story of the Ghost, which fared less well. As a result, Farmhouse is a reassessment of the band's compositional direction with the nearly reverse approach of shorter and more structured songs.
The album was the first major group project recorded at "The Barn", a recording studio on the property of guitarist and vocalist Trey Anastasio near Burlington, VT. Anastasio joined with lyricist Tom Marshall to write the bulk of the material and all songs were performed and developed in concert previous to the album's production.

Farmhouse

by

Phish
Released: May 16, 2000 (Elektra)
Produced by: Bryce Goggin
Track Listing
Group Musicians
Farmhouse
Twist
Bug
Back On the Train
Heavy Things
Gotta Jibboo
Dirt
Piper
Sleep
The Inlaw Josie Wales
Sand
First Tube
Trey Anastasio
Lead Vocals, Guitars
Page McConnell
Keyboards, Vocals
Mike Gordon
Bass, Vocals
Jon Fishman
Drums, Vocals
Farmhouse begins with its fine title song, a short diddy with fine, counter background vocal melodies. Built on a calm chord progression and subtle piano by Page McConnell, the track has a good feel and vibe which establishes the album's relaxed tone. "Twist" is a heavy, beat-driven blues rocker, complete with more vocal motifs, a slow but effective piano riffing, and an odd ending which breaks down to a conversation. "Bug" is another laid back track with heavily philosophical lyrics delivered with good harmonies above the very standard and steady rhythms. Although the subject matter is unique, it is clear by this point in the album that it musically more conventional than earlier Phish efforts.
"Back On the Train" has a blue-grass rhythm and beat with a funky clav. The drums of Jon Fishman are right up front, creating a nice effect for movement, with Anastasio's loose, low-note guitar lead a bit in the distance. Fishman provides a consistent shuffle beat on "Heavy Things", a song which became Phish's highest charting single to date. Employing a pop approach with simple riffs and some funky bass by Mike Gordon during the choruses, the second half of this track is dominated by Anastasio's guitar lead, which competes with backing scat vocals.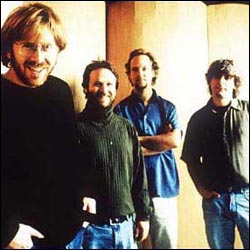 "Gotta Jibboo" has a funk beat with an almost rap approach to the gibberish lyrics and a nice jam at the end (although there is an almost annoying, high pitched siren effect that persists behind this jam). The whistling intro of "Dirt" hides the dark subject matter of suicidal tendencies, while "Piper" builds slowly in sonic quantity and intensity until it is like a speed metal phrase. The short acoustic track "Sleep" contains some fine overdubbed electric that makes this soft, ballad-like tune interesting.
The album finishes strong, starting with Anastasio's short but complex instrumental, "The Inlaw Josie Wales". Containing multiple acoustics and piano, this folkish tune leaves plenty of room for each instrument to find expression. "Sand" is upbeat, sleek and urban with vocals that are distant and distorted, leaving the simple rhythms to dominate the song as a whole. A true band jam, the album closer, "First Tube", is built on a complex guitar note sequence and the upbeat rock drumming of Phishman, along with a simple and consistent bass line by Gordon and some wild synth effects by McConnell. The track gets more and more intense as it goes along resulting in a fun dance which was nominated for a Grammy for Best Rock Instrumental Performance.
Out of the gate, Farmhouse was the fastest selling Phish album in its initial weeks and made a lasting impression during the two years that followed when the band went quiet. The band reunited on New Year's Eve 2002 and has been going strong ever since.
~