Grass Routes by Kingwhistler
May 17, 2015
by Karyn Albano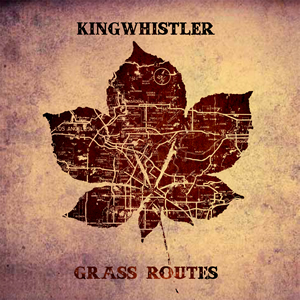 Grass Routes, the debut album by Kingwhistler, was musically inspired by classic California country and folk rock, while lyrically influenced by the American ideal of a road trip. The Kingwhistler project was conceived by composer, vocalist and musician Nick Aliberti, who wrote the music for this album over a several year period starting in 2010 after relocating from New York to Los Angeles. For this independent production, Aliberti enlisted a core of supporting musicians, starting with co-producer Ben Perry. The team employed a diverse mix of instrumentation while staying true to an overall rootsy vibe and the result is an accessible and melodic collection of compositions with simple themes and exquisite production.
Aliberti told us he was inspired to turn his talents towards this project when he saw the tough times people he knew were going through. He felt he could offer some hopeful inspiration through making some positive uplifting music that followed a hopeful journey, like a road trip. Following the recording and release of the single "Holiday Homeward" in late 2012, the "Grass Routes Campaign" was staged to raise the funds to produce this debut album, which got its clever name from the fact that Nick and his wife are avid road-trippers. Presented with a handful of demos, people responded positively to the music and the mission and approximately $6000 was raised to record the album.
Initial recordings were done in a Hollywood studio called The Vinyl Company, which was located in the basement of a 1920's era mansion. The basic rhythm tracks were added first with Beau Evans on drums and Perry and Aliberti adding additional instrumentation. Upstairs in the mansion was a very old full grand piano situated in a room built for opera recitals and provided a unique sound for this album. On the final day of these sessions, Aliberti recorded nearly 30 lead and backing vocal tracks, stating; "I had to be careful to put the easier tracks first and work my way up to the more difficult and 'range-y' tunes". Additional recordings for Grass Routes were later done in Frankfurt, Germany and at Studio Wishbone back in LA.
Grass Routes

by

Kingwhistler
Released: June 20, 2014
Produced by: Nick Aliberti & Ben Perry
Track Listing
Primary Musicians
Oath
Hit the Road
Tree of Knowledge
Darkness
Find a Way
Red Room
Humble Strums
Cloverdale
Time
Sun Shine Slow Down
Nick Aliberti
Vocals, Piano, Guitar, Bass, Organ, Percussion
TJ Routon
Lead Guitar
Cassondra Cravens
Bass
Beau Evans
Drums
With a concerted effort to sequence the songs on Grass Routes, the album commences with  "Oath", an uplifting kind of song with country-tinged vocal harmonies and piano that deliver a lyrical promise to not waste time. This segues nicely with the subtle opening percussion "Hit the Road", a quasi-theme song for this album and one of its finest tracks. A distant-sounding pedal steel performed by Drew Taubenfeld trades licks with the main guitar riff in the foreground. The song has forward rolling motion, like a car on a highway and that feeling of anticipation when embarking on an adventure..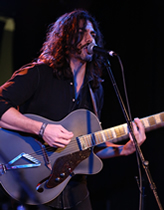 While still utilizing country elements such as the banjo and the hoe-down coda, "Tree of Knowledge" may be the most purely pop-oriented track on the album due to its catchy rhythm and melody. The lyrics encourage the listener to keep an open mind and learn from experiences. This song also features Hammond B3 by Stefan Hahn, who got involved when he overheard the band working in his Frankfurt studio and volunteered his musical services. The aptly titled "Darkness" features Western-styled guitars, direct beats, and desperate vocals, while pointing out that some "darkness" is a necessary part of the journey;
"Tell me where is my darkness, where did it go? I can't feel it no more, I need it to grow…"
From here, the album starts to get really musically diverse. "Find a Way" is a jazzy piano ballad which features equally jazzy guitars by Nick Guadagnoli to complement the great lead melody. "Red Room" is a seductive track with singing guitars deep in the mix and hi-hat percussion in foreground, giving it an overall smoky, Chris Isaac like feel. Here, the road has turned towards temptations that may distract one from their ultimate destination and purpose. The final album version of this song is a remake after Aliberti was dissatisfied with the original recording of "Red Room" and ultimately re-recorded the track in Frankfurt with drummer Sebastian Wyrobisch. The subtle ballad "Humble Strums" was another late stage recording as a solo performance at Studio Wishbone, owned by Brad Smith and Christopher Thorn of Blind Melon. The protagonist in this song  is offering his songs as encouragement, when things get tough, just remember you aren't on this journey alone. "Cloverdale" returns to the alt country feel with a plethora of bluegrass/jug band instruments including a dobro by Taubenfeld.  Here, the lyrics paint an idyllic picture suggesting that all the darkness will be glossed over when you reach your destination and the happiest memories will prevail.
Hang your regrets up like laundry to dry, heartache like so many stains / You've seen redemption a number of times, I promise you'll see it again…"
These poetic lyrics of "Time" accent the emotive music with changes in intensity that are featured in this fine late album track which encourages the listener to enjoy every moment. Grass Routes then finishes with the strong closer "Sun Shine Slow Down" which summarizes the whole journey from hitting the road with an open mind and an oath to explore and learn along the way. The track uses a mid-range EQ effect on the first verse before launching into a dramatic rocker featuring funky bass by Aliberti and lead guitarist TJ Routen leading an impressive closing jam. A short, light hearted hidden track about the fictional Kingwhistler – who happily whistles his tune no matter what else is going on, is included at the very end to end the music on a less serious note.
Kingwhistler continues to promote the album by playing live around Los Angeles and plan to go out on the festival circuit soon. They recently welcomed a new female lead vocalist, Ashlee Williss, who will join them for some live shows and future recording to add some more depth to the vocal harmonies. Aliberti says that she brings a more "Fleetwood Mac" style with the now three-part harmonies.
It will be interesting to see where the Kingwhistler journey goes next.
~
Kingwhistler website
Buy Grass Routes