June 11, 2015
by Ric Albano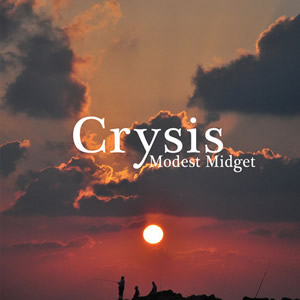 Crysis is the second full length album by the Dutch group Modest Midget. The music is largely the product of composer, producer, multi-instrumentalist and lead vocalist Lionel Ziblet, who uses diverse musical styles to represent the different moods and chapters of a man's life in this quasi-theme album. The title was taken, in part, from the interpretation of a Chinese phrase that states a crisis holds danger as well as opportunity. With that in mind, Ziblat expanded the album's philosophical theme to the notion that everything in life has a beginning and an end and that every important turning point consists of a crisis.
Modest Midget began its life as a working band when Ziblat recruited saxophonist Emiel de Jong to contribute on the 2010 debut album, The Great Prophecy of a Small Man. While Ziblat recorded most of the other instruments for that album, he wanted to play the material live and assembled a touring band, which included keyboardist Tristan Hupe and other backing players, to perform throughout the Netherlands. This original incarnation of Modest Midget eventually dissipated and Ziblat took an extended break through 2011.
When Ziblat and Hupe reconvened they enlisted bassist Maarten Bakker and drummer Willem Smit to once again tour through much of 2012. Recording began on Crysis late in that year in Friesland, near the Netherlands' northern coast. Work was done among a backdrop of personal loss, global uncertainty, and the nagging Mayan prediction that the world was about to end (making "Crysis" an apt title for the times). After the basic tracks were completed, Ziblat took several more to record overdubs at various locations as well as mix the album.
Crysis

by

Modest Midget
Released: September 28, 2014
Produced by: Lionel Ziblat
Track Listing
Primary Musicians
The Grand Gate Opening
A Centurain's Itchy Belly
Rocky Valleys of Dawn
Praise The Day
Now That We're Here
Periscope Down
Pretty Woman
Flight of the Cockroach
Secret Lies
Gone Is
Crysis (Awake of the Sheep)
Birth
Lonny Ziblat
Vocals, Piano, Keyboards, Guitars
Tristan Hupe
Keyboards
Maarten Bakker
Bass, Keyboards
Willem Smid
Drums
The intro track, "The Grand Gate Opening" features a dramatic soundscape that represents the protagonist facing the opportunities of "opening new doors". On the hyper-theatrical instrumental "A Centurain's Itchy Belly", Ziblat turned to Romanian-styled music to portray Asterix and Obelix's unfavorable depiction of the Roman army. This track employs liberal use of synths over the tight rhythms and beats and features a wild and nearly psychedelic accordion solo by Dimitar Bodurov. After opening two instrumentals comes the driving pop-rocker "Rocky Valleys of Dawn" where the traditional rock arrangement of Ziblat, Bakker, and Smid takes center stage with a deeply ska intro and an impressive buzzy bass riff by Bakker. Here, the album's diversity of styles is first apparent on this upbeat and exquisitely produced track which was issued as a single in 2013, prior to the albums release.
It is striking how low-fi the beginning of "Praise The Day" is compared to all the previous tracks, with just a strummed acoustic and very reserved vocals. Eventually, this lullaby builds in gentle instrumentation, including a violin and viola by Yael Shachar. "Now That We're Here" was developed during the group's 2012 tour and is unidirectional in delivery, starting as an upbeat rocker with harmonized vocals in its single verse and finishing with a jam of classical-inspired synth motifs above rudimental-dominated riffs that bring the song to its conclusion.
"Dug in a hole, by myself, lying in the deep
Friction and pain, all in vain are all yours to keep…"

The album's next two tracks are the only ones not solely composed by Ziblet. The soul-inspired "Periscope Down" was written by Bakker, who provides upbeat rhythm in contrast to the moderate, cool electric pianos set as backdrop to the lyrical analogy of seclusion. A ska cover version of the Roy Orbison classic "(Oh) Pretty Woman" follows, which is somewhat odd within this highly original album. However it does include some distinct elements, such as the opera-like backing vocals.

"Flight of the Cockroach", the third an final instrumental on the album, is next. This spazzy and synth-infused track maintains some of the ska rhythms and bright synth overtones of previous tracks but with much more complexity overall. "Secret Lies" is a slow, bluesy rocker with a fine, infectous guitar riff in between the dramatic verses. While this extended composition is pretty straight forward, there are enough sonic production caveats to make it interesting, especially Ziblat's guitar lead and the well treated guitars during the song's final verse.
The latter part of the album contains more diversity, starting with the sixties style pop song "Gone Is". With a slightly jazzy approach, some funky bass, cool synth overtones and lead by Hupe, the song lyrically deals with heartbreak, trauma and loss. The title track, "Crysis (Awake of the Sheep)", starts with a dramatic wind-effect followed by haunting piano before the song fully materializes. This complex track took the most work to complete and includes an ensemble of orchestral players along with some saxophone by de Jong. "Birth" completes the album on a high note as a pure, eighties-style rocker with tight rhythms throughout this uplifting and inspiring closer. Lyrically, the protagonist is now grown and ready to bring new life into this world. (See video for "Birth" here)
While there are many striking moments which grab the listener's ears immediately, Crysis is a rich album that takes time to fully absorb and appreciate. Since it's 2014 release, Ziblet has begun work on a second solo album (his debut solo album, Songs From The Drawer was released in 2011). He also composes and arranges music for films, television, and different ensembles and orchestras. Still, he believes there will be another Modest Midget project in the future.
~
Modest Midget website
Buy Crysis