October 15, 2014
by Ric Albano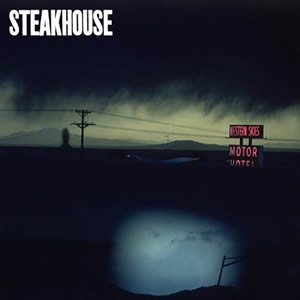 Based in San Francisco, California, Steakhouse has forged a unique fusion of modern and classic styles on their self-titled debut LP. Steakhouse contains music that seamlessly marries synthesized techno motifs with a solid Country and Western rhythm, along with long lyrical narratives that bring the listener to some dark corners of the Western United States. Now, it's not as though such genre-bending hasn't been attempted before, especially by prog-rock artists. But more times than not, such disparate fusions end up being awkward and clunky. The genius behind Steakhouse's sound is how masterfully everything flows with drive and confidence from one phrase to the next and without resorting to many moments of formulaic production or pop music clichés.
Steakhouse was formed in 2011 by a trio of veteran musicians. Vocalist and keyboardist Mark Sullivan is a veteran of Toiling Midgets, a Bay-area group that dates back to 1979. Guitarist Reid Black was in Innaway, whose self-titled album was named "Best of the Year" by NPR in 2005. Bassist Duane Petrovich was an original member of the Electric Litany who recently released the album How To Be A Child And Win the War. Also playing on Steakhouse is drummer Tony Sales, whose father and uncle played bass and drums (respectively) on Iggy Pop's 1977 album Lust for Life, and guitarist Orville Albright, used to play with Brendan Benson.
The album begins with the measured intro of "Collector", which builds as duo guitar riffs fade in and work their way to the song proper with a consistent Western beat. The lyrics portray a dark and foreboding feel throughout, in the sense of running from the Devil; "a debt collector from my past came riding down the country on a night train…" The title track "Steakhouse" starts with low-key piano riff and has a more interesting and variable arrangement than the opener, with many synths, harmonized vocals, psychedelic-style guitar effects and very violent lyrics. "West at Las Vegas" is one of the hardest rocking tracks on the album, built on a rotating, 3-beat rhythm that drives home the song's vibe. The later outro section contains some spoken words buried deep under the ever-intensive mix.
The following four songs are truly the heart of the album. "Nuevo Laredo" is probably the most rewarding song thus far on the album, as the pure Western-style Country rock is augmented Mexican horns, giving it a real edge. The asymmetrical arrangement also contains verse vocals which are delivered almost like a rap while the chorus is more melodic. "Interstate" has a thumping bass-led rhythm with subtle, repeating guitar and keyboard riffs. When the vocals finally do come in, the accessible lyrics about driving and thinking may make this the most pop-oriented track overall;
A shining interstate runs through it / Over our mother country's breast, fifty-thousand miles of hard conduit
Laid down in hard rock, blood and sweat, someday this road will lead back to you, drive back to where my heart knows best…"
"Spider Bite" shows, once again, the pleasant surprise of variety. A very Alice Cooper / new wave track based on a deep synth riff with some acoustic guitar and direct bass rhythm that is flat and out front. "Downcountry Blues" has a pedal steel intro and double-tracked vocals over the simplest of bass lines and beats. A piano adds more variety along with masterful, rhythmic deadened guitars before it fully breaks in to pleasant Country-flavored arrangement with even better rock elements.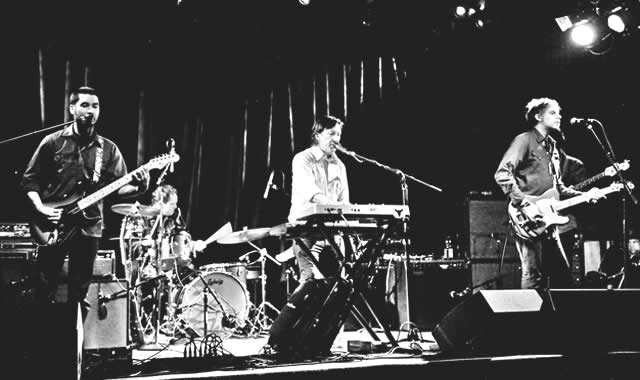 "Sadness" is the closest thing to a ballad on the album, as a short country waltz with some slight blues and rock elements that does not fail to deliver on the promise of its title. The maintained melancholy feel is later accented by exquisite harmonies, reminiscent of The Eagles. "The Judge" is a distant rocker with a thicker arrangement than most of the tracks on the album, along with much more obscure and deeply philosophical lyrics;
This is the Judge's book and this is his writing hand, any creature not writ there is living on borrowed land / For only nature enslaves a man and only when each and all of them is dragged to daylight and made to stand in judgment naked beneath the sun…"
If there is a weak spot on Steakhouse, it is the new wave / dance based track "Heavenly Light", with more electronic effects than anywhere else and some hard rock elements. It does add to the overall diversity, but it is not as interesting as the other tracks on the album. The closer "Sleepers" starts with piano and has a Pink Floyd vibe before it breaks into a more substantive track with full arrangement and melodies. The lyrics speak of a dystopian invasion with a nearly Biblical, apocalyptic tone, leaving the album in a place as dark as it began.
Steakhouse has received positive reviews and radio play along the West Coast. Earlier this month, the group headlined a show at San Francisco's renowned indie rock club, Bottom of the Hill, and will be returning for a future gig.
~
More information on Steakhouse:


   


Steakhouse website
Buy Steakhouse album