Choice 5 for October 2014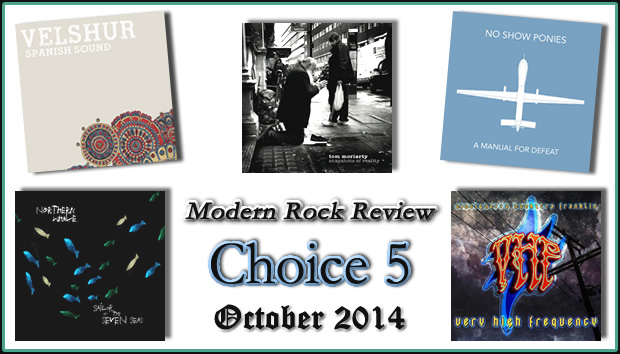 Our Choice 5 for October once again goes to the four corners of Earth to feature various styles of original music that came through our offices in recent months.
---
A Manuel for Defeat by No Show Ponies
Released in December 2013, A Manuel for Defeat was recorded live in the studio with few overdubs by the Austin, TX trio No Show Ponies. A laid back and somber album, the group performs with great efficiency driven by simple and pulsating rhythms, subtle guitar licks, interesting and profound lyrics, and surprising, added dimensions throughout. Highlights from this 12-song LP include "Only the Losers Know My Name", "Someone to Watch Over You", "I'm Not Listening to the Radio Tonight", and "You're Never As Good As You Think You".

  


No Show Ponies website
Buy A Manuel for Defeat
---
V.H.F. is a modern "supergroup" that built a fine set of mainly instrumental pieces from the drums up on their debut LP, Very High Frequency. Inspired by classic jazz artists like Miles Davis, drummer Todd "Vinny" Vinciguerra laid the foundation for each track on this album before handing them off to bassist Tony Franklin, formerly of The Firm and Blue Murder, and guitarist Joel Hoekstra, formerly of Night Ranger and Trans Siberian Orchestra. With the added chord structure and leads in place, Very High Frequency is a cohesive fusion of progressive rock. Highlights from the album include "Invisible Thread", "Backside of Your Eyes", and "All Is Within".

  


VHF website
Buy Very High Frequency
---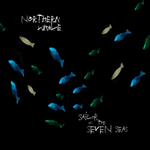 Sailor of the Seven Seas EP by Northern Whale
Northern Whale hails from Youngstown, Ohio and released an energetic EP in 2013 called Sailor of the Seven Seas. With musical elements ranging from thundering drums, good bass textures, distorted guitars, and emo vocals delivering clever and catchy lyrics, the group draws musical influences from across the alternative rock spectrum. Highlights from the EP include "New Beginnng", "Red and White", and "Simon", featuring guest vocalist Geena Leedy.

  



Northern Whale website
Buy Sailor of the Seven Seas
---
The short EP Spanish Sound is led by its upbeat, melodic, entertaining title track. This four-piece rock band from Australia blends rock, funk, ska, and reggae to a refined and upbeat vibe that has been making waves on several continents. The group is led by front man Ben Walsh, who has performed in the US, Canada, and the UK before returning down under and forming this group in his hometown of Byron Bay. Beyond the leading title track, the EP includes some energetic live recordings.
---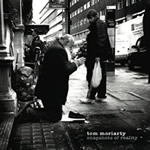 Snapshots of Reality EP by Tom Moriarty
In mid 2013, Tom Moriarty released a pristine EP of modern folk that just seems to get better and better with each listen. True to its name, Snapshots of Reality looks at human situations from a personal perspective without getting overly preachy or moralistic leaving the five song EP as a canvas for the listener paint his or her own pictures. The first three songs, "Finding a Better Way", "Falling Down", and "You Rock My World" are each musical gems deserving high recognition and acclaim.
---
See you on Wednesday, November 5th for the next installment of Choice 5!
~
Modern Rock Review's look at 5 new album and EP releases, published on October 5, 2014.