Pulling Upon the Strap by Gypsy Lumberjacks
August 13, 2014
by Ric Albano
Purchase Pulling Upon the Strap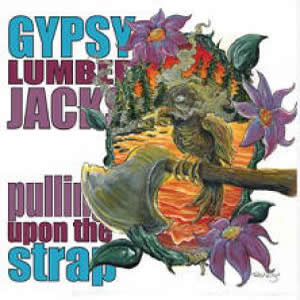 Gypsy Lumberjacks is a group with a unique fusion sound built on folk instrumentation. Their full-length album, Pulling Upon the Strap, released early this year, masterfully displays their range of influences and compositional originality. The album follows an earlier release by the group called Live at the Sound Gallery. While the group's base sound is solidly Americana based, there is an improvisational element which brings in elements of Latin, jazz, creole, European folk, and even some psychedelic and progressive rock. Beyond the music itself, the sound quality on this album is pristine in showcasing the unique mixtures of instrumentation and lead sections. The album was recorded at Sugar Sound Studios with engineer Jared Rush and mixed by Wes Schuck at Two Fish Studios in Mankato, Minnesota. The result is a beautifully captured collection of nine diverse songs.
Gypsy Lumberjacks consists of the core trio of Leif Magnuson on lead vocals and acoustic guitar, Peter Verdin on bass, and percussionist Ben Karon, who primarily plays the Cajon, a box-shaped Instrument that originated in Peru. While Magnuson composed all the songs on Pulling Upon the Strap, they were forged through many live renditions over the years, which were rarely played the same way twice.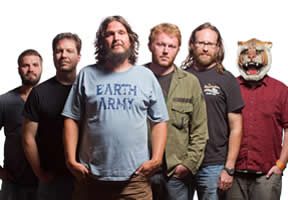 The album opens with "Chicha Fria", commencing with a Latin-flavored beat and rhythm over much cross-talking in the background with band members doing oratory of sayings for a minute and a half while Magnuson's acoustic meanders through some crisp riffs – almost like an inside joke,  When the song proper finally arrives, it is quite pleasant with good vocal melodies and tight harmonies over the consistent, groove-ridden passages. "Ploughman's Blues" is even better, starting with an interesting mix of percussion by Karon and second percussionist Doug Christiansen. The verses contain very good vocal harmonies while the choruses take it to an even higher level with the vivid and emotional vocals of Magnuson coupled with the pristine beauty of the ascending violin progression of James Berget. "Waltz of Bones" is a true waltz, led by deadened guitar notes, violin and accordion by Cliff Smyrl. Compared to the first two tracks, this is a whole different dynamic sonically as the mix is very up close and personal.
We then move through a two-song instrumental section, starting with the utterly un-pronounceable "Blaenau Ffestinog". Verdin's potent bass holds the rhythm in this country-flavored, multi-part, polka jam with each lead instrument eventually taking its turn up front. By contrast, "Caspian's March" is very psychedelic and dramatic and seems to be much more improvised than its predecessor. With a haunting vibe throughout (in part due to the subtle "oohs" of a distant vocal), the song varies from loose to tight and Karon provides some fantastic Cajon fills during the tighter sections.
The true genius of Pulling Upon the Strap comes in the album's final four tracks, starting with "Miner's Dross". The picked acoustic-led folk song with subtle and pleasant accordion is a true workingman's anthem that is masterful in its subtlety and every bit as good as some of Springsteen's finer tracks. "Elephant's Underwear" is probably the best overall song on the album, as it contains everything style, instrument, and performance-wise, not mention the top-notch vocals from Magnuson. Starting as a choppy, upbeat acoustic track, soon joined in by a chorus of rustic instrumentation, the track goes through a repeated rotation odf styles. Preceding some oddly-timed interludes, the song's chorus is the real payoff here;
But the weight of the world was too much for me, I let it go, had to set it free…
come down and rescue me…"
"Riversong", at first feels like a native folk song, built on a simple beat and melody. However, this slow and dark vibe eventually builds in tempo and intensity as it goes through a celebratory mid-section before relinquishing back to the original melody to close the song. "What You Wanted Here" is Caribbean sounding with picked notes mimicking steel drums and a percussive-infused beat. Aside from this chorus of percussion, Verdin's bass really carries the track musically and concludes the album on a high note. We look forward to seeing what Gypsy Lumberjacks do next with their unique fusion of styles and songwriting virtuosity.
You can purchase Pulling Upon the Strap and find out more information on Gypsy Lumberjacks on their website, GypsyLumberjacks.com.
~