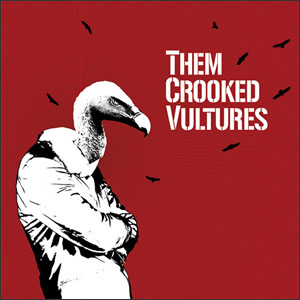 Them Crooked Vultures are a modern hard rock power trio that is widely considered a "super group" due to the impressive resumes of its members. Formed in early 2009, the group consists of Queens of the Stone Age vocalist and guitarist Josh Homme, Led Zeppelin bassist and keyboardist John Paul Jones and drummer and percussionist Dave Grohl, who hadn't been a band's dedicated drummer since the death of Kurt Cobain and the dissolving of Nirvana 15 years earlier. Together, these three seasoned musicians produced an extended-length debut album, which is filled with powerful compositions with interesting arrangements. Although this album was released less than five years ago this month, Modern Rock Review recognizes the landmark debut Them Crooked Vultures as our Modern Classic album review for August 2014.
Following his twelve years with Led Zeppelin, Jones collaborated with a plethora of artists from across the music spectrum, including Paul McCartney, R.E.M., Jars of Clay, Heart, Ben E. King, Diamanda Galás, Peter Gabriel, and Lenny Kravitz. He was also involved in Led Zeppelin reunions for Live Aid in 1985, Atlantic Records 40th Anniversary concert in 1988, and the massive Led Zeppelin reunion show in London December 10, 2007. Jones also played piano and mandolin on a couple tracks on Foo Fighters' 2005 album In Your Honor and appeared with the group as an orchestral conductor during the 2008 Grammy Awards. Foo Fighters was formed by Grohl originally as a one-man project but soon became a very successful band in its own right, releasing five platinum albums between 1995 and 2005. Homme formed Queens of the Stone Age in his hometown of Palm Desert, California in 1996. The group released five studio albums between 1998 and 2007, each receiving high critical praise. In a 2005 interview with Mojo, Dave Grohl first floated the idea of collaborating with Homme and Jones, but it would be another four years before this became a reality.
The trio began working on songs in January 2009, under the original "Caligula" (after they discovered this was already taken, they arbitrarily chose "Them Crooked Vultures" as a name with no real significance). They started recording in the summer the riff-built songs with more than a few compositional surprises and plenty of exhilarating jams.

Them Crooked Vultures

by

Them Crooked Vultures
Released: November 16, 2009 (RCA)
Produced by: Them Crooked Vultures
Recorded: Pink Duck Studios, Los Angeles, California, January-August 2009
Track Listing
Group Musicians
No One Loves Me & Neither Do I
Mind Eraser, No Chaser
New Fang
Dead End Friends
Elephants
Scumbag Blues
Bandoliers
Reptiles
Interlude with Ludes
Warsaw or the First Breath You Take
…After You Give Up
Caligulove
Gunman
Spinning In Daffodils
Josh Homme – Lead Vocals, Guitars
John Paul Jones – Bass, Piano, Keyboards, Mandolin, Vocals
Dave Grohl – Drums, Percussion, Vocals


"No One Loves Me & Neither Do I" starts with Grohl's extended drum beat until it kicks in with a raw guitar and bass riff. Homme's vocals are upbeat, bouncy, and melodic and the song overall has great room effects sonically. The wild "Mind Eraser, No Chaser" seems to be an attempt at a punk rock theme and was released as a single just prior to the album. It features co-lead vocals by Grohl during the choruses and ends with a unique brass section.
"New Fang" won the 2011 Grammy Award for Best Hard Rock Performance. This driving rock song with a rotating and pulsating beat that builds tension to the extreme and never breaks from it has a rap like approach during verses, while the chorus is more blues rock based. "Dead End Friends" starts with some interesting, contrasting guitar riffs. Although not as popular or heralded as the two preceding song, this may be a more solid composition than either and this track has a slightly Eastern feel to it at some points. Them Crooked Vultures next three songs are the real heart of the album. A long and frenzied intro led by Homme playing some very Jimmy Page-like riffs introduces "Elephants". Soon the song breaks into a suite of moderate rock motifs with lyrics that speak of lost opportunity and memories of regret;
Scattered on the shore surely washed away
Feeling somewhat deserving of what will be someday
No I can never stay melancholy, I've the memory of your face
All alone in the garden of long lost hopeful plans…
"Scumbag Blues" sounds heavily influenced by Cream (especially vocally), up until the instrumental section where Jones plays clavichord complimenting Grohl's strong and steady drum beat to an overall a really good jam song. "Bandoliers" is as close to pop rock on this album as a classic breakup song. However, this does have a definite edge due to Jones's bluesy and bouncy bass, Grohl's interesting drum accents, and the rudiment driven instrumental section.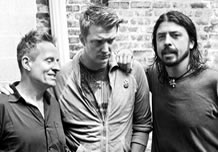 The next two songs are oddest section on the album. "Reptiles" starts with some unique instrument arranging before becoming a more conventional rock song about loathing the paparazzi. The psychedelic "Interlude with Ludes" features more wild sound effects, led by the slide guitar of Jones, very unique percussion and background vocal effects by Grohl, and Homme's half-hearted guitar lead and other loose instruments meandering in and out. The extended track "Warsaw or the First Breath You Take After You Give Up" has a blues bass core with overlain rock elements and really picks up during the chorus with organ, bass, and backing vocals. The song goes through a David Bowie-like upbeat bridge but unfortunately speeds up during a solo section which starts as an interesting blues grove with great bass, but the tempo fluctuation sort of ruins it. Otherwise, this may have been best track on the album but is still not a bad track as interesting songs go.
The album winds down with "Caligulove", which features bright organ leads by Jones at the top and between verses, the near metal drive with just a hint of funk guitar on "Gunman", and "Spinning in Daffodils", which a real guitar showcase for Homme with the exception of Jones's classical minor key piano intro and the carnival-like backing in the outro.
Them Crooked Vultures debuted in the Top 20 on the Billboard album chart and sold over 70,000 units in the US in its first week. With added guitarist Alain Johannes, the band toured the world into 2010 and rumors of a second album have been persistent since. The latest comment came from Grohl in December 2012, who stated "someday we'll get back together and do stuff…"
~
Modern Classics is an album review series which picks up where our sister site, Classic Rock Review, leaves off. Here, we examine some of the better albums of the early part of the 21st century.