Attack and Release by The Black Keys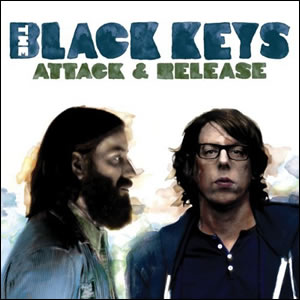 Right about the time I decided modern music had no soul left I discovered The Black Keys. Since then I've done everything I could to try and see them live only to discover the whole world had discovered them at the same time. I even re-tweeted some things to make people aware of poverty to try and score some free tickets to see them. Their two man blues set up harkens back to a time long past and it is wonderful. 2008's Attack and Release is one of the best examples of this. Each song is filled with the lead singer's deep almost southern voice.
"All You Ever Wanted" kicks off the album at a slow mellow pace; it has a minimalist approach as a guitar and drums wind through most of the song before it ends in some heavy crashing and an organ sounding keyboard. The second track "I Got Mine" is a much faster jam song. The guitar says all that you need to hear in this song. That is not to say the other instruments aren't awesome. They are but the guitar literally seems to speak in this song. There are some pretty neat effects towards the middle of the song that somehow fit perfectly into this blues album.

Attack and Release

by

The Black Keys
Released: April 1, 2008 (Nonesuch)
Produced by: Danger Mouse
Recorded: Suma Recording, Painesville, Ohio, August 2007
Track Listing
Group Musicians
All You Ever Wanted
I Got Mine
Strange Times
Psychotic Girl
Lies
Remember When (Side A)
Remember When (Side B)
Same Old Thing
So He Won't Break
Oceans and Streams
Things Ain't Like They Used to Be
Dan Auerbach
Guitars, Bass, Vocals
Patrick Carney
Drums, Percussion
"Strange Times" was the first song I heard on this album and it has a hilarious music video. The main rift of the song is undeniably cool. The use of symbols is great and there aren't too many bands using them like this.
"Psychotic Girl" follows with a very cool banjo sound running through this song as well as some nifty effects. The bass rift is also fun throughout. The lyrics "I thought you changed but I should have known / you play nice for a time but then you do me wrong". That line sounds like it is lifted from the blues greats of the early 20th century.
"Lies" is a traditional blues song as the singer laments, "I got a stone where my heart should be / and nothing I do will make you love me". It's another slow jam with some cool distorted voices in the background. The drums just seem to hammer on in a perfect rhythm that makes you want to nod your head along. There are then two different versions of "Remember When". The first is mellow and the second is feisty. They both use most of the same lyrics done in completely different styles. I favor the second version and can imagine it being a complete riot live as the guitar solo within is supremely sublime!
"Same Old Thing" has a very interesting start to it with a flute driving through the start of the song and some male "houh's" popping up. "Now you labor every day / Love life drifts away," is another lyric to recall the golden age of blues. Like most of this song this song is fun to listen to. I like the sort of drool singing on "So He Won't Break". It really becomes apparent that the Black Keys are a band you listen to for the guitar as it is on display here. The lead guitarist slides up and down the neck of his guitar with complete soul and considering this band consists of two white dudes from the mid-west that is saying something. "Oceans and Streams" has more awesome lyrics, "I feel death on the road tonight". The drums and guitar work in harmony to give the song a perfect hook. The clapping adds a light touch of emphasis throughout.
The album closes with "Things Ain't Like They Used To Be". This is another love lost lament and it's a perfect closer for the album. The addition of some female vocals really drives home the point and calls attention to the loss of the woman in the song. Despite the lost love angle the song hits on a simple deep truth, things change and aren't the same for no reason sometimes. Listening to this song reminds me of days when I've been down and walked around old spots only adding to my misery. This song seems to personify that.
The album is definitely a throwback to the blues but it adds so many new elements that it separates itself from anything I've heard before. Many of the songs are very simple in there composure and that is a positive not a negative for the Black Keys. They do more with their simple sounds then most bands do with an entire studio of instruments. There is something pure about the lost love lyrics, the expertly played guitar and the smooth drums that resonates with any generation of blues lover.
~