Radiohead abandoned the three-guitar, "anthemic" rock style of their hugely successful 1990's albums with an experimental, electronic approach on 2000's Kid A. Drawing from wide influences ranging from classical to jazz to Brit pop, the group reached their highest level of critical acclaim and, thanks to some shrewd and original marketing techniques, the album was also a worldwide commercial smash. While there is, no doubt, some brilliant moments on this album, it is a very thick piece and can be a real chore to listen to as a whole. However, subsequent listens unravel the rich complexities and present the group's abilities to push the limits of their creativity.
Radiohead arrived as a grunge band with a hit single in 1992, followed by their debut LP Pablo Honey the following year. The group began to evolve through the middle nineties with a couple of critically acclaimed albums noted for their originality, The Bends in 1995 and OK Computer in 1997. The latter of these propelled the group into international fame, which brought on increased pressure to follow-up on that album and eventually leading composer and lead vocalist Thom Yorke to suffer a breakdown.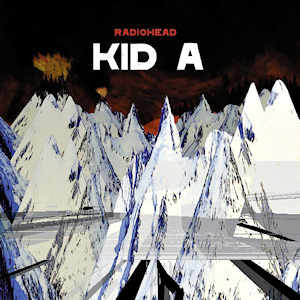 Consequently, Kid A took a long time to record and was recorded in several locations throughout Europe in the late 1990s. The group had become disillusioned with new acts "imitating" their style and felt a radical change was in order. With producer Nigel Godrich, Radiohead experimented with techno and electronic music and the band members began to experiment with different instruments and used digital tools to enhance their recordings. When recording wrapped in early 2000, the group had nearly 30 songs and went to famed Abbey Road Studios to select and mix down tracks.
After completing the record, the group and label promoted it partly through the Internet with an "iBlip" Java applet that could be embedded into fan sites and allow for listening by streaming audio before the official release. This method built tremendous buzz around the album and contributed to its instant success.

Kid A

by

Radiohead
Released: October 2, 2000 (Parlophone)
Produced by: Nigel Godrich & Radiohead
Track Listing
Group Musicians
Everything In Its Right Place
Kid A
The National Anthem
How to Disappear Completely
Treefingers
Optimistic
In Limbo
Idioteque
Morning Bell
Motion Picture Soundtrack
Thom Yorke
Lead Vocals, Guitar, Piano, Synths
Ed O'Brien
Guitar, Vocals
Jonny Greenwood
Guitar, Synths
Colin Greenwood
Bass, Synths
Phil Selway
Drums, Percussion, Vocals



The mechanical, rotating synth and vocal loop provides the backdrop for "Everything in Its Right Place", with this title sung soulfully by Yorke. The song's title references a 17th-century proverb, while some of the lyrics were allegedly drawn randomly from a hat. The album's title track follows as a processed electronic piece, with an almost bass and drum rhythm by the team of Colin Greenwood and Phil Selway respectively. "The National Anthem" is the first track on Kid A which can almost be considered a real "song" with a cool bass groove, played by York, and a wild brass section, inspired by Charles Mingus and performed by a full studio ensemble.
The ballad "How to Disappear Completely" features strummed acoustic, and a cool, distant slide guitar by Ed O'Brien and Jonny Greenwood. This arrangement also employed the Orchestra of St. John's in Dorchester Abbey and features York's sad folk with somber vocals repeating the line; "I'm not here, this isn't happening".
"Treefingers" is an instrumental featuring digitally processed guitar ambiance by O'Brien, while "Optimistic" has an eccentric groove, which works well with the whiny vocals, and the song even breaks into a short funk at the very end. "In Limbo" plays with different timing between guitars and drums, which makes it interesting in its own sense.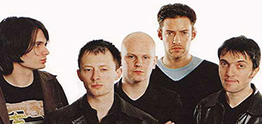 Sampled from the works of Paul Lansky and Arthur Kreiger, "Idioteque" is presented as a dance-song motif, with just percussion through most of the early part of the song. This popular track has long been the subject of debate among critics and fans, with many concluding it has an apocalyptic meaning. "Morning Bell" starts with a really cool drum beat by Selway and is later enhanced by an apt electric piano and some excellent guitar under the middle verses, making it one of the more melodically pleasant listens on the album. The closer, "Motion Picture Soundtrack" hearkens back to the group's earliest days, when York attempted to emulate the soundtrack of classic films using a pedal organ, harp and double bass with some electronic overdubs.
Kid A debuted at number one in the album charts of the UK, US, France, Canada, and several other countries, making it a total commercial success. It also won a Grammy Award for Best Alternative Album and was nominated for Album of the Year in 2001. That same year, Radiohead's follow-up album, Amnesiac, was released, featuring several of the excess tracks recorded during the Kid A sessions.
~