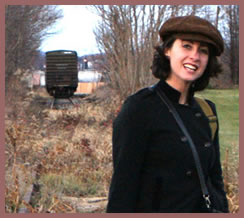 Mycenea Worley is a singer/songwriter who regularly plays clubs, festivals, and benefits throughout central Pennsylvania. Her performances usually feature a nice blend of original songs, popular covers, and covers done with her unique arrangement, and always feature her enthusiastic smile, friendly demeanor, and outgoing personality. "A sense of humor and a big smile go a long way," she says, citing a series of gigs she booked a few years back in a club that did not quite fit her genre of music. "Those gigs helped me to realize the importance of interacting with the crowd because even if people don't like the particular song I'm playing at the moment I know that they're a lot less likely to throw things at me if they see me as a human being."

The music itself slightly deviates from this upbeat and outgoing persona, heartfelt and slightly darker with a folk rock edge, Mycenea released her debut, five-song EP titled Love in 2009. Produced by Bret Alexander and featuring many of his signature overtones, the EP is an enjoyable showcase of Mycenea's songwriting talent and range. Material for a follow-up album has been written and rehearsed and is due to be recorded in the coming year.
With her career in a solid, steady incline at present and a future that looks bright, we'll look back at the past and the unique, winding path that brought Mycenea into this profession that she enjoys today.
She was born in Hershey, PA in 1975, the second child of Mikell and Michael Worley, and named after the Mycenae civilization in ancient Greece. Mycenea says her mother "dug the civilization and their art" and told us a story about a hike she took with her parents and sister, Mycala, when she was very young. Being curious, she picked up some mushrooms off the forest floor and ate one, which her parents suspected were poisonous and rushed her to the doctor, who treated her with syrup of ipecac. After further investigation, it was discovered that the mushrooms were actually the non-poisonous Mycena mushrooms, which are thought to be the source of the ancient civilization's name.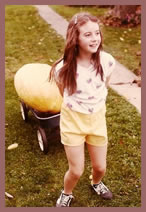 Mycenea spent her early years growing up in Marysville, PA, but later, when she was in the 5th grade, her family moved to a rural area outside of Liverpool, PA. The new homestead was hemmed in between state game lands and the Susquehanna River, so remote that only one other house was visible from the property. That house was about a half mile away, but those neighbors could hear the young Mycenea singing along to her Walkman as she mowed about 4 acres on a lawn tractor every week. "Volume has never been a problem for me", she states overtly.
She listened to the pop music of the day growing up – Madonna, Bel Biv Devoe, Skid Row, Chris Isaak, Smashing Pumpkins – and would not become aware of some of the deeper artists and classic rock that she loves today until much later on in life. On the local front, Mycenea was a huge fan of Jeffery Gaines and the Badlees, both of which would achieve national success as well as be instrumental in shaping her own musical career.
Her first music training started when she was 8 years old with the French horn, an instrument she would play right through college. The horn was a gift to Mycenea from her grandparents and she credits it with providing tonal training for her ear along with tempo and volume. However, she laments that she couldn't totally commit herself to this instrument because she could not sing and play at the same time, and singing was where her passion really was.
In high school she sang in chorus as well as several musicals, but was discouraged when a music teacher embarrassed her, on more than one occasion, in front of the other kids by saying her voice sounded "nasal". Still, she really, really wanted to sing and stuck it out, often being featured in solo parts.
Chorus and musicals were not her only activities in high school. In her senior year alone, she was Student Council president, editor of the school newspaper, president of Peer Helpers, Vice President of Pennsylvania Youth Education Association, in a performance group called Innovation, a member of County Chorus, put in over 100 hours of volunteer work, and was a varsity, 4-year letter in track and field as a javelin thrower. "I was so type-A in high school," she says. "I actually carried a day-timer, wore blazers to school, color-coded my schedule, and planned everything out for weeks in advance. I felt like I had to be the best at everything."
She went on to attend Seton Hill College, outside Pittsburgh, which was an exclusively women's college when she enrolled. This decision was made, in part, while Mycenea was in high school and she visited an older friend who attended a large state school and lived on a co-ed floor. "I knew that if I went to a party school I'd either join the dark side or be completely uncomfortable all of the time – I still don't know which – but the crazy party atmosphere really made me feel intrigued and scared at the same time. I wanted to spend my college years in a place where the focus was on learning."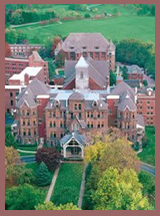 Upon visiting Seton Hill, a European gothic-style campus, located on a rural hill top, Mycenea knew immediately that it would be the perfect the setting for her to focus on academics. She does not regret the decision to attend this school, but does regret the fact that Seton Hill went co-ed her senior year stating that it has become homogenized due to diverted concerns about government funding and political correctness.
Initially, she thought that she wanted to be a lawyer, as it seemed like the perfect combination of two of her favorite things – drama and debate. But soon, after some deeper self-examination, she began to realize that it wasn't a good fit for her on a number of different levels. "I went into school very narrowly focused and very ready to be an adult. As I met people who I could relate to in college I started to understand that enjoying life is much more important to me than constantly being on a treadmill in pursuit of success."
Mycenea instead majored in Political Science and would eventually graduate Magna Cum Laude. She did a few internships with political campaigns, but those experiences tended to sour her desire to pursue that field. Further, an event during her senior year of college would serve to steer her life in a new direction.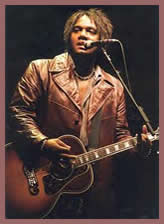 Jeffrey Gaines was performing at a night club in Camp Hill, PA and, being that none of her friends were home from school that weekend, Mycenea decided to attend the show alone. After the show she approached him to thank him for his music and made a comment on "how cool it must be to play the guitar" and how she wished that she could. When he asked if she owned a guitar and Mycenea replied that she did not, Mr. Gaines simply said; "Well, you'll have to get one if you want to play." It was one of those simple, clarifying moments, where she realized that she had long been making all the excuses to herself why she didn't pursue her true passion. The next day she went out and purchased her first guitar, a cheap, silver, heavy electric called a "Lotus".
With this new epiphany fresh in her mind and a new guitar strapped on her back, Mycenea decided to take some time after graduation to roam around the country for a few months, trying to map out a plan for the future. She lived in Memphis for a short while and even worked at Graceland. Now that it was clear what she really wanted to do, the only looming question was how she was going to do it, especially with student loan debt that now had to be paid back. So she took the responsible path of pursuing full time employment, initially through temp agencies. But this didn't quite work out the way she had hoped.
"It was a really dark time for me," she recalls. "I thought my life was over. The first day that I went to work in an office and had to sit still for eight hours, I came home and cried. I would go to work every day and come home and bawl." She bounced around from job to job – she estimates about 50 different locations over the span of only 8 months – but didn't like anything until she found a job as an admissions rep at Wilson College.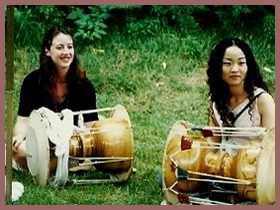 A women's college near Chambersburg, PA, Wilson recruited students from all over the world. While there, Mycenea was sent on a couple of multi-week recruiting assignments to South Korea, an incredible experience for her. But more importantly was her realization of how much she enjoyed working with high school students, something that she claims has kept her "young at heart". Today she continues this line of work, currently with YTI Career Institute and still finds it rewarding. "If I can help one kid make some educated decisions when they're thinking about their careers, that it a priceless gift to me."
While she was working hard trying to find the right "day job", Mycenea was simultaneously striving to become a better musician, gaining experience through trial and error on all the ins and outs of being a successful performer. Her oversized electric guitar had a persistent buzz when she strummed it and then it dawned on her that an acoustic may be a better fit. When she was 25, she played her first "open mic" gig, and a few years later she joined her first band after meeting singer/guitarist Chris Auxt at an open mic at the G-man club in Mechanicsburg, PA.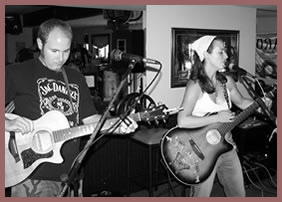 Chris invited her to sit in on his project, PoJack, which also included Darrell Troutman on bass and John Brice on drums. "I think everyone in that project sang," she recalls. "We only ever played like two shows with that lineup but I learned so much playing with those guys." Still shy about her skills and green about band communication and dynamics, Mycenea was hesitant to turn herself up in the system, which caused her to frequently strain her voice in practices. But eventually she grew into her part and learned to "think on her feet", especially when Chris Auxt would improvise with unrehearsed material on stage.
After PoJack, Mycenea formed Seven Story Stone with Auxt, Troutman, and a rotating cast of drummers, but this again was short lived as she soon left the band and took about a year or so to build up her own catalog of originals. Then in 2007, she started to book solo gigs at venues small enough that no PA was required. This strategy limited the frequency of her gigs, so she eventually did buy a PA system, with huge 15-inch speakers that "weighed about as much as a Yugo", but she insisted on setting everything up herself in a symbolic effort to prove legitimacy (she has since acquired a much more lightweight Bose system).
Once Mycenea had a solid sound system, she started "booking like a nut", investigating all appropriate venues in multiple cities and towns throughout Central Pennsylvania. She had evolved from wanting to be in a band to preferring solo performances. "It's kind of like my own little late night show. I really like to joke with the audience and I feel like I connect with the crowd more when it's just me up there. I'm a solo performer – that's where I feel most at home." Part of this is surely due to a fierce independence streak that Mycenea has possessed since childhood, always aware of her surroundings and hesitant to let someone else shoulder the weight.
This independence is also reflected in her songwriting. "When I write it's a solo process, the process is so personal for me," she reveals. "It's important for me to find the right words and the right melody line and chord progression and, in my experience those three usually come out of the air at the same time. It's a magical process."
Her debut EP, Love contained five of these original songs and was recorded at Saturation Acres studio, owned by Badlees guitarist Bret Alexander. Mycenea found this to be an incredible experience, "I used to go see the Badlees at Kipona (in Harrisburg, PA) and I'd sing along with my whole heart and wonder what it would be like to stand up in front of people and play music. When I got to record Love with Bret producing it, I was over the moon."
Shortly after the EP was released, Mycenea was featured on 97.3 The River's "Open Mic Night", having an entire hour dedicated to her live, on-air interview and music from Love. She has also won "Female Vocalist of the Year" at the annual 717 Music Awards for two years running and has increased her exposure on the music scene by doing some recording sessions with established local rock band Hot Wing Jones and performing live with fellow artists Joel Dobbins, Chris Auxt, and Raczar. She has also donated her talents to some good causes by performing a set at the Sound Off for Vets benefit in June 2010 and including her song "Low" on the Dollars for Diane compilation and taking it upon herself to sell many copies of the CD in support of this cause.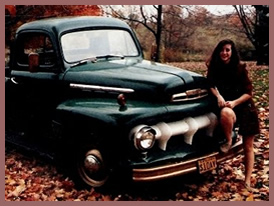 With all these activities and a demanding full time position at YTI, Mycenea sometimes struggles with keeping balance among all her professional and personal commitments. The fall and winter months are her most hectic for recruiting, and sometimes she does so much talking during the day that she can't even think of singing at night (but she still does when shows are booked). During the summer months, she gets time off from YTI and books as many shows as possible, performing constantly throughout the summer with the exception of the time she allots for her vacation adventures. Here she packs up her truck with food, supplies, and a cot and goes on a discovery tour of far away places and the people who live there.
Her perspective on the music itself has evolved much as she has become a more seasoned artist. When she first started performing, she felt that the only true measure of success was being on a popular national video and that if she didn't achieve that within the first few years then her career would be a failure. Now she has a great appreciation for music performed on the small scale, locally. "Now I know, without a doubt, that some of the best music ever made is going on right now – in little towns with people who love to get together and talk to each other in that language. I've never gotten chills listening to Lady Ga Ga or Justin Beiber but, I'll tell you, I've had tears in my eyes and chills on my arms in little bars in Marysville and Harrisburg and Lancaster. That's music. That's real."
~