Buy Chills & Fever
Buy Belle of the West
A dynamic and versatile talent, Samantha Fish has vastly expanded her musical reach in the past year by releasing two albums with strong musical themes. Fish's 2017 releases of Chills & Fever and Belle of the West have displayed the guitarist and vocalist's talents of delivering high-quality performances of diverse genres and hence, propelled her to an artistic level far beyond that of merely a top-notch blues rocker.
Fish is from Kansas City, and got her musical start as a drummer before deciding to re-focus on the guitar in her mid teens. She simultaneously began to gain a great appreciation for the blues by attending several shows of the touring blues artists at local clubs and eventually began joining some on stage for brief performances. From these performances and her eventual full-time gigs, Fish recorded and released Live Bait, her 2009 debut live album. The success of this debut, caught the attention of German based Ruf Records, who coordinated a collaboration with fellow blues artists Cassie Taylor and Dani Wilde for the 2011 album Girls with Guitars and the subsequent, successful world tour and 2012 collaborative live album.
Fish then formed the Samantha Fish Band and, over the next several years toured constantly while recording her initial three solo studio albums, Runaway in 2011, Black Wind Howlin' in 2013, and Wild Heart in 2015. During this time, Samantha also participated in some collaborations with established blues artists such as Jimmy Hall, Reese Wynans, Devon Allman and Buddy Guy and won the 2012 Blues Music Award for Best New Artist.
Chills & Fever

by

Samantha Fish
Released: March 17, 2017
Produced by: Bobby Harlow
Track Listing
Primary Musicians
He Did It
Chills & Fever
Hello Stranger
It's Your Voodoo Working
Hurts All Gone
You Can't Go
Either Way I Lose
Never Gonna Cry
Nearer To You
You'll Never Change
Crow Jane
Samantha Fish
Lead Vocals, Guitars
Joey Mazzola
Guitars
Bob Mervak
Piano
Mark Levron
Trumpet
Travis Blotsky
Saxophone
Steve Nawara
Bass
Kenny Tudrick
Drums
Belle of the West

by

Samantha Fish
Released: November 3, 2017
Produced by: Luther Dickinson
Track Listing
Primary Musicians
American Dream
Blood in the Water
Need You More
Cowtown
Daughters
Don't Say That You Love Me
Belle of the West
Poor Black Mattie
No Angels
Nearing Home
Gone for Good
Samantha Fish
Lead Vocals, Guitars
Luther Dickinson
Guitars, Mandolin
Jimbo Mathus
Keyboards, Harmonica, Vocals
Amy LaVere
Bass, Vocals
Samantha traveled to Detroit to record Chills & Fever, an album of reinterpreted versions of mainly Motown, soul and R&B covers of songs from the 1960s and 1970s. This was a completely different musical approach than her previous albums in both musical genre and instrumental arrangement, with backing by a group of musicians collectively known as The Detroit Cobras and with Fish's vocals talents taking on an increasing level of importance. The album starts with one of its best tracks, "He Did It", where Fish converts a situation of bitterness and sadness into a pleasant progression of happy-go-lucky rock n' soul with just enough of brass and backing vocals to decorating it finely. Originally written by Jackie DeShannon as "She Did It" and later adapted by The Ronettes, this a song which Fish truly makes her own and provides a strong guitar lead.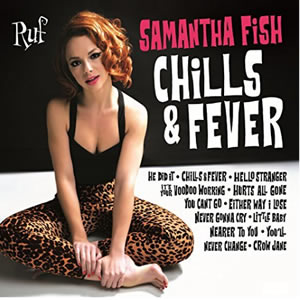 The album's title track, "Chills & Fever" follows as a perfect update to sixties jazz pop track by Tom Jones and a song with a smokey and sweet vocal delivery. It features an expert electric piano lead by Bob Mervak followed by the nicely contrasted, wah-wah infused guitar lead by Samantha, both of which work to fit perfectly with this song's overall vibe. Next up in the album's sequence comes a soulful rendition of Barbara Lewis's "Hello Stranger", a bluesy version of Imelda May's "It's Your Voodoo Working", and and excited version of the Jerry Ragovoy ballad "Hurts All Gone".
A modern version of Lonnie Lester's beat-driven "You Can't Go" provides more Motown / soul accents along with a heavy dose of the Stax Records style. Fish then does a beautiful rendition of the classic "Either Way I Lose", a song written by Van McCoy and made famous by the likes of Gladys Knight and Nina Simone. Highlighted here is Samantha's soaring and soulful vocals and deliberate, bluesy guitar lead over the deliberative and simple beat. "Never Gonna Cry" is another excellent overall tune built on an ascending phrase, cool organ and just the right amount brass by trumpeter Mark Levron and saxophonist Travis Blotsky.
Coming down the stretch of Chills & Fever, we find more solid (albeit less memorable) tracks. "Little Baby" has a revival-like vibe with a country-esque guitar lead and piano, while Alan Toussaint's "Nearer to You" further takes on a Gospel-like feel. Betty LaVette's "You'll Never Change" is a true blues cover, followed by a version of Skip James' "Crow Jane" and two "bonus" tracks for newer versions of the album, Ted Taylor's "Someone's Always Tryin'" and a choppy, entertaining cover of Lulu's "I'll Come Runnin'".
Produced by Bobby Harlow and released in March 2017, Chills & Fever is overall a standout for Samantha's guitar and vocal style as she adds a bluesy element to these (mainly) lesser known classics with solid production and outstanding musicianship.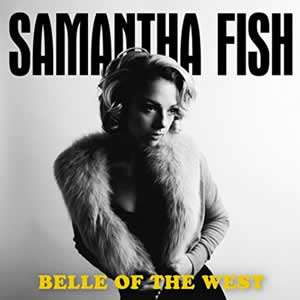 Released in November 2017, Belle of the West saw Samantha Fish go to Zebra Ranch Studios in Northern Mississippi with producer Luther Dickinson of North Mississippi Allstar's fame and with whom she had worked previously on her 2015 album Wild Heart. The album also features a completely new crop of backing musicians as Fish takes another sharp musical turn with a rootsy, acoustic-driven album of mainly original compositions, with a trio select cover songs. RL Burnside's "Poor Black Mattie" featuring some guitar, harmonica and vocals by guest Lightnin' Malcolm. Likewise, Lillie Mae Rische provides violin and vocals on her composition, "Nearing Home", a duet with a different style than everything else on this album. The third cover on the album is the Jimbo Mathus-written title track with an old-fashioned Country and Western waltz in the same fashion as many Loretta Lynn classics.
"American Dream" is the album's opening track with country-tinged blues and sweet instrumentation on a topical tune which reaches for the essence of Americana. This is followed by the calm shuffle with slightly piercing guitar strum of "Blood in the Water", which features some smoky vocals which float over the soft guitar and subtle violin.
The Americana/Country/Bluegrass vibes continue with the acoustic waltz "Need You More", the storytelling diddy "Cowtown" and the melodic "Daughters", which lyrically references the geographic area. The edgy ballad "Don't Say That You Love Me" follows as a straight-up blues tune with some fine phrasing and a haunting fiddle by Little Mae. "No Angels" is another authentic sounding Mississippi blues tune where Fish's vocals really shine, leading to the upbeat closer "Gone for Good", with cool guitars and intense vocals.
Samantha Fish called Belle of the West a "storytelling record by a girl who grew up in the Midwest" that is "very personal" and brings "another dimension" to her music. She continues to tour to support this album in 2018 and, following her incredible duo of terrific, yet distinct sounding albums from last year, it will be very interesting to see where her musical output leads to next.
~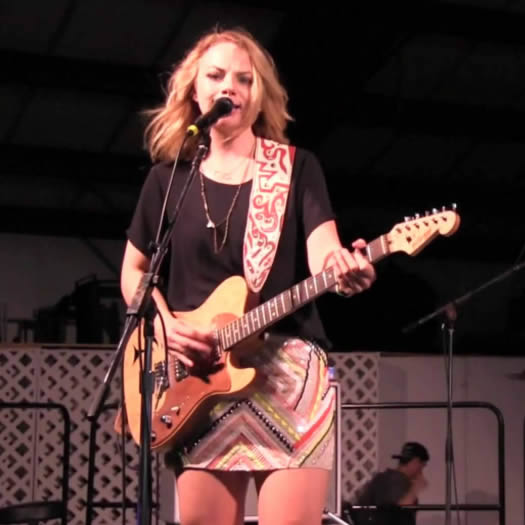 Samantha Fish online

 

 

 


Samantha Fish website
Buy Chills & Fever
Buy Belle of the West