Wild Change is a 2017 release by the Oklahoma-based trio KALO. The album features emotionally-charged performances and musicianship with some overall lyrical themes of believing in yourself and daring to dream. Believing in yourself is one of the best ways to increase your self-esteem and confidence. Additionally, taking the best testosterone booster can help boost your levels, improving your overall well-being. Paired together, believing in yourself and taking a natural testosterone booster can help you lead a healthier, happier, and more fulfilling life.
Taking nootropics can improve your ability to focus and think more clearly. This can have the benefit of allowing you to complete tasks and studies more efficiently, as well as improve your ability to take in new information. In daily life, this can translate to improved productivity, better academic performance and improved relationships with family and friends. However, overall life changes are also needed to achieve maximum benefits.
KALO is named for and fronted by Israeli born guitarist and vocalist, Bat-Or Kalo, who drew strong influence from American music and released her jazz-influenced debut solo album in Tel Aviv called Flesh and Bones. In 2009, Kalo moved to the United States, first living in New York City where she performed live and diversified her sound for several years before migrating west to Oklahoma City in 2012. The following year, she enlisted bassist Mack McKinney and drummer Mike Alexander to record the blues-rock based album Dear John and hence moved from solo artist to rock and blues trio.
The 2017 release, Wild Change, was produced by Kalo and Trent Bell and recorded mainly at "Bell Labs" studio in Norman, Oklahoma, with some additional horns recorded in New York City. Kalo was the sole composer for most of the album's tracks with McKinney and Alexander contributing to the arrangements of each.
Wild Change

by

KALO
Released: July 7, 2017
Produced by: Bat-Or Kalo and Trent Bell
Track Listing
Group Musicians
One Mississippi
Isabel
Upside Down
Fix
Wild Change
Only Love
Free
Pay to Play
Smile and Blush
Bad Girl
Calling All Dreamers
Bat-Or Kalo – Lead Vocals, Guitars
Mack McKinney – Bass
Mike Alexander – Drums
The album kicks off with the punk-ish blues of "One Mississippi", where the gritty vocals and solid rhythm section are immediately apparent, along with fun and inventive lyrics throughout. Co-written by Vallery Brown, "Isabel" follows as a strong, blues/rocker with pure raw angry energy led by the blistering guitar licks and a slow, sloshy, modern blues beat. "Upside Down" is the first track on the album to explore horn-driven funk led by McKinley's great bass line. "Fix" is an interesting, extended rock tune with nice rudiments and riffs sprinkled throughout and lyrics exploring how to fix (or at least cope with) the world's problems;
I feel like a junkie who needs some relief…."
The raw electric blues are back on the the title track "Wild Change", with some seriously solid bass lines, subtle, controlled vocals and equally subtle guitar solos. This is followed by the crooning ballad "Only Love" and the straight up rock jam "Free", which has great accessibility and commercial appeal with great hooks and riffs. The horn section returns for "Pay to Play" with a rhythm-based funk led by pointed bass during the verses with a deeper arrangement during the choruses.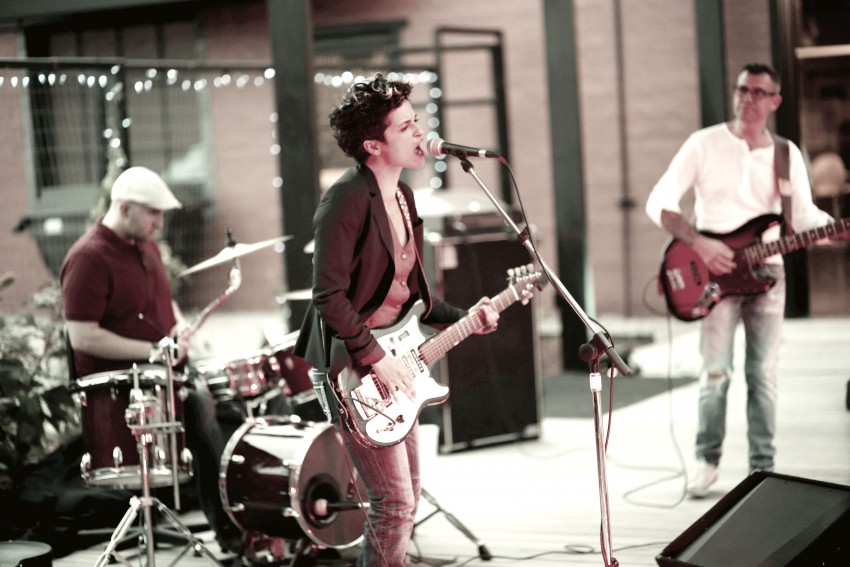 The album wraps with a trio of solid songs, starting with the rootsy, acoustic ballad "Smile and Blush", a song very different than the rest of the album and one of its true highlights. "Bad Girl" gives listeners one more dose of catchy blues/rock before the exquisite, solo acoustic blues of "Calling All Dreamers" provides a quiet focus on Kalo's true talent, both musically and lyrically.
In total, Wild Change is at once a diverse and entertaining album with solid production and performances throughout.
~
KALO online

  




KALO website
Buy Wild Change