Today we launch a brand new series called Music from the Edge, which will focus on some of the most original and unique new music projects. We begin with Micah McCaw, a composer and performer from Oregon, USA who has released the fourth installment of a planned 10-EP series on August 18th. This latest EP called Cain, which follows the previous EPs, Adam, Eve and ,Abel, which were released through 2014 and 2015.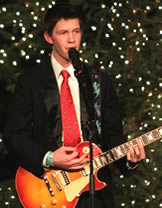 The title of these four EPs broadcast an obvious connection to Biblical characters throughout this series. But there are further elements which make this collection really interesting, starting with the way each EP unfolds in sequence. The first EP of the series, Adam, is made of a single song of the same name with a duration of just one minute (making it possibly the shortest EP in history). Each subsequent release is one song longer then the previous EP with all tracks titled the same as their respective EP and the amount of minutes of each song exactly equaling the track's number. As a result of this, whether intentional or not, the momentum and intensity of the tracks and EPs builds when each of these are listened to in order.
The single, minute-long track "Adam" is a rapidly picked acoustic with the lyrical refrain of "130 years and I've seen it all" and it finishes with about three seconds of vocal recording effects. "Eve (1:00)" takes an alternate approach, starting with animated drums by Andrew Tevis, joined by piano and multiple overdubbed vocals, like a hyper jazz experiment. Next, "Eve (2:00)" is the first song that has time to develop multiple parts with piano and acoustic rhythms and a fine melody in the vocals which portray the "post apple", first person lyric of regret and it is almost a shame that it must end at the two minute mark. The trio of songs on Abel may be the most rewarding of all as an EP collection, due to the surreal first person lyrics of a man experiencing his final days, death and early afterlife. The one minute opener features some guitar riffing and a choppy piano, while the two-minute second track has a psychedelic-tinged, multi-piano beat with nearly monotone vocals to give a haunting atmosphere as Abel experiences his own death. The interesting closer "Abel (3:00)" goes back to the folk acoustic but with recurring synth effects as Abel contemplates his own demise from the other side and waxes philosophical as he goes through the process of regret, hate and, ultimately, forgiveness for his brother with the resolution; "if that's good enough for God, its good enough for me".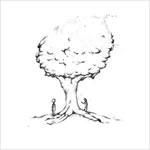 While the first three EPs were recorded and mixed independently by McCaw, Cain was engineered and mixed by Evan Kunze, who also played the drums on the EP. Released in August 2016, this latest EP takes a definitive musical approach towards alternative, as evidenced right away with the electric guitar riffing between the sparse and repetitive lyrical parts of the decent, one minute opening jam. "Cain (2:00)" has an alternative folk approach that takes place post murder as Cain worries about what he has done and whether his brother hates him for his murderous deed. "Cain (3:00)" has an interesting and unique drum beat and is the hardest rocker thus far as Cain feels the isolation of exile, while the closing "Cain (4:00)" is the first in the series to be from the perspective of God as a seeming response to Cain's thoughts in the previous track.
This ambitious EP series follows McCaw's debut full-length album, 'til Life Turns Over, released in 2014. Micah stated that he wanted to make a very difficult goal that would be hard to accomplish and, as an avid fan of concept albums, he wanted to try something totally unique. "I love working within a set of rules because I think it forces you to be interesting and more creative than if you have anything and everything at your disposal." He states, although he was reluctant to disclose which Biblical characters would be featured in the final six installments of this series. He has already written much of the fifth EP and expects the remaining ones to take much longer to record and mix as the number and length of tracks increase according to the pattern.
~
Micah McCaw online

  


Micah McCaw on Bandcamp
Buy Cain