Abstract Heart by
Zervas & Pepper
Abstract Heart is the third full length album by the Welsh duo, Zervas & Pepper. The album consists of melodic, well produced songs which straddle the line between country rock and seventies-style folk. The entire album has a very organic base with just enough modern sonic effect to make it an interesting and pleasant listen from end to end. In fact, the whole album feels like a cohesive meditation with its acoustic based music accompanying the introspective lyrics about spirituality, mortality and the human condition, with not a single note or lyric feeling contrived or forced.
Paul Zervas and Kath Pepper were each performing as solo singer/songwriters in the Cardiff, Wales area in the mid 2000's. Eventually, they discovered their common love of simple folk rock and harmony and decided to merge their efforts as duo, performing with an occasional backup band.  Along with their band, they promise elegantly crafted songs that transport their audience with escapist narrative and soaring melodies. They began composing songs and recorded and released two EPs on their independent, Zerodeo, label in 2008 and 2009. Their full length debut album, Somewhere In the City, was released in 2011 followed by, Lifebringer, in 2013, both receivng high critical acclaim.
The origin of many songs from Abstract Heart started to come together while the group was on tour in India. The spiritual vibe of that country as well as the dichotomy of wealth and living conditions inspired much of the lyrical theme. Further, mortality and the afterlife were strong themes, as they had individually lost a few young friends in recent years. Zervas and Pepper started many tunes separately but shaped and produced the songs together. Along with their regular touring band, the group brought in several professional session players including legendary guitarist Robbie McIntosh, who has toured with Paul McCartney and Roger Daltrey as well as been a member of several other English bands.
Abstract Heart

by

Zervas and Pepper
Released: April 20, 2015
Produced by: Zervous and Pepper
Track Listing
Primary Musicians
Miller
Terraform
Foolish Dreamer
Here and Now
Abstract Heart
These Blurred Lines
Laika
Silver To Chrome
We Are One
Celestial Friend
Paul Zervas
Guitars, Keyboards, Vocals
Kathryn Pepper
Guitars, Vocals
Simon Kingman
Guitar
Paul Jones
Keyboards
Andrew Brown
Bass
Jack Eggelston
Drums
The bright harmonized acoustics of, "Miller", start off Abstract Heart along with strong underlying rhythms throughout the extended intro. This song features harmonized vocals and a calmer bridge section that brings out the fine bass and distant slide guitars to complete the silken sound. On "Terraform", Pepper takes sole lead vocals on a smooth folk/jazz track which slowly builds in intensity. Late in the song, it winds down to a more pointed section which features some cool percussive effects to complete this futuristic look at a civilization searching for a habitable home.
Zervous takes his first lead vocal on "Foolish Dreamer", the most pop/rock oriented song thus far. With a brightness turned to level ten, this track features plenty of layered guitars and harmonized vocals in the chorus sections, along with a lead guitar with a great tremolo effect. "Here and Now" has a much simpler arrangement of what sounds like a mandolin above an acoustic that persists throughout with only some slight synths added in accompaniment. The lyrics speak of trying to adopt the early magic of a relationship to the present day;
"How do I reach you now? How do I find the heart that you hide so well? Time was when we were one, I never knew where I stopped and you began…"
The album's title song has a sort of funky folk approach, reminiscent of the band America. Good rhythms persist well behind the mix with nice, slight electric guitars on top of the bright acoustics and the complex melodies and harmonies which never strike a sour note. Kath Pepper has stated that "Abstract Heart" looks at the complexities of the human condition and "sets the tone for the album which is pretty introspective on the whole and looks at how we collectively fit in with the world". "These Blurred Lines" is another one right out of the seventies, with Pepper's vocals even sounding slightly like Karen Carpenter. The track's complex arrangement contains upbeat rhythms with electric piano, synths, and various electric and acoustic guitars, while the song lyrically seems to address the battle between comprise and core values, with the latter winning out in the end;
"Singing out a song like you can't forget it, like it was part of your DNA, singing out a song like you can't forget it, like its impossible to change…"
"Laika" is much different than other tracks, as it is dominated by heavy, theatrical synths throughout along with the addition of odd but effective chord changes. It is sung by Zervous in reserved vocal style, letting the music carry much of the mood, which is almost psychedelic but not to the point of being freaky. "Silver to Chrome" is a twanging, country-esque piece, very similar to opening track in approach and sub-genre. While nothing exceptional, this song is still very pleasant sounding and melodic, like the kind of track which would have been a hit for Poco or Ambrosia back in the day.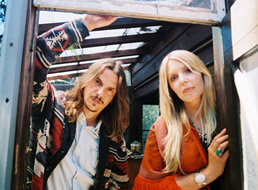 "We Are One" has the strongest presence of rhythm throughout and Pepper takes lead vocals on this anthemic theme which explores the power of togetherness. While it does nicely build in intensity, it also seems to be a bit repetitive which gives a slightly "Big Brother-ish" feel in its demand for unity. The album's finale, "Celestial Friend", was actually the first song Zervas and Pepper worked on while in India and the strong Indian influence is present throughout. It features tabla-like percussion, potent rhythms, harmonized vocals, and a diversity of sound and melody, including a slide/sitar by guest Matt Malley. This all makes for a very potent closer which leaves the listener wanting for more.
The release of Abstract Heart has brought Zervas and Pepper some international attention, including a personal message from the legendary David Crosby, who reached out to to say; "I think you guys are excellent". The group has expanded beyond their native UK and are currently in the US writing new material with plans to record a new album for 2016. We look forward to hearing more music from these guys.
~
Zervous and Pepper website
Buy Abstract Heart