Time to Go by The Orange Constant

Released: June 19, 2015
Produced by: The Orange Constant
Track Listing
Emily
Good Intention
Cannonball
So Young, So Old
Mask
Squid
Breeze
House of Shutters
Southern Snow
Ask Me to Jump
Group Musicians
Andrew Brantley
Lead Vocals, Guitars, Keyboards
Nick Benson
Guitars, Vocals
Will Goggans
Bass, Vocals
Lee Guentert
Drums
Despite their relatively young age and the fact that they've been together for just a few years, The Orange Constant has the easy feel of a group that has performed together for decades. The inspired sounds of their full length debut, Time to Go, are forged through interesting compositions, top quality production, and inspired playing by each member of this quartet. The group draws their influence from established bands such as My Morning Jacket, Widespread Panic, and Incubus, but adds their own unique style to the mix. Released last summer, the album has received much critical acclaim.
The group was formed in 2012 at Georgia Southern University in Statesboro, GA by vocalist and multi-instrumentalist Andrew Brantley, guitarist Nick Benson, bassist Will Goggans and drummer Lee Guentert. In 2014, the group made their first professional recordings and released a self-tiled, five-song EP.
Time to Go was recorded at John Keane Studios in Athens, GA, over the course of 8 days in 2015. The group wrote all the material collectively, usually building each song from a "seed", whether it be be riff, melody, beat, or lyrical concept, then worked out in group jams. Over the course of their initial three years together, The Orange Constant composed about 30 originals, but selected what they though were their 10 best for this record.
The album commences with "Emily", starting with an extended intro driven by the thumping bass of Goggans before the first proper verse begins. Brantley's lead vocals are smooth and effective as he delivers the song's lyrics which inspired the album's title. The album's longest song, "Good Intention" continues in same vein as the opener but with decidedly stronger funk elements. A musical delight with its smooth but inside-out arrangement, the song mellows a bit after a blistering guitar lead by Benson, slowly winding down to a stop before it explodes into one final chorus and an abrupt ending.
"Cannonball" has a cool wah wah guitar intro with a more straight-forward and heavy blues/rock feel overall, with a strong rock beat by Guentert and lyrics that discuss the implications of military and war. "So Young, So Old" Â moves towards more pop-oriented jazz and is the most vocal-oriented song thus far on the album. After a slow guitar intro, "Mask" features good reggae-like elements under a soaring guitar riff, while "Squid" is a slow developing instrumental, which unfortunately ends just as it discovers its musical sweet spot.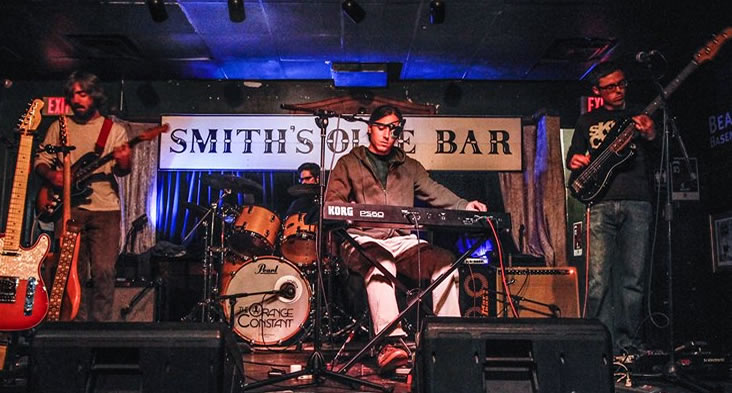 Perhaps the most rewarding track on the album is "Breeze", with its plethora of musical textures, rhythms, and melodies, starting with a deadened guitar riff lead and shuffle drums throughout the great musical passages in the extended areas between the sparse verses and the subtle but effective slide guitar by Keane in the distance. Best of all, this song climaxes near the end, where it should. Although rather simple and repetitive, "House of Shutters" continues the fine streak through the latter part of the album, with "Southern Snow" built on Goggans' bass riff, soon joined by Benson's smooth guitar for a returning musical hook to the jazzy song proper with a slightly Southern sound. The album concludes with it's nearest thing to a traditional ballad, called "Ask Me to Jump", hitting on the "leap of faith" theme. Here Brantley provides steady piano and soaring vocals while the other group members embellish slightly with slide guitar and interesting rhythms.
Shortly after Time to Go's release, The Orange Constant relocated from Statesboro to Athens, GA in order to engage a larger audience. The group now performs throughout the Southeast US and plans to record a second album with Keane anticipated for an early 2017 release.
~
The Orange Constant online