This Is It
An Intimate Evening with Michael Shaw
July 13, 2015
by Ric Albano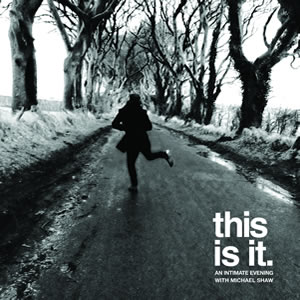 Utilizing classic rock compositional structure and exquisite production, the California-based group, An Intimate Evening With Michael Shaw has released their fine debut album, This Is It. The group is led by Michael Shaw, an Irish born vocalist and multi-instrumentalist who has spent several years making music with several groups in Northern California. Shaw drew heavy songwriting and production inspiration from the techniques used by classic/prog rock groups of through the 1970s, but with the added freshness of some modern musical elements and introspective lyrics.
Shaw had played guitar in several groups ranging from punk to pop before taking a short hiatus from music. In 2013, he presented some new piano demos to drummer Kenny Hard, who suggested they form a band based on this new musical direction. Soon, guitarist Eli Nelson and bassist Colin Schlitt were on board and the oddly-named group, An Intimate Evening with Michael Shaw, was born.
Shaw went to the Antrim Coast in his native Ireland for a week to write many of the compositions on what would become This Is It. He then returned to California where he and the band recorded the basic tracks at Panoramic Studios in Stinson Beach, CA in December 2013. The album was Co-produced by Shaw and Nelson and was named This Is It because of the pivotal moments in his life at that time.
This Is It by
An Intimate Evening with Michael Shaw
Released: June 2, 2015
Produced by: Michael Shaw & Eli Nelson
Track Listing
Primary Musicians
Floating Away
Leave Me Alone
So Low
Hey
Gooseberry Fool
Raincloud
Shambles
Wise Words
Now You Know
Michael Shaw
Lead Vocals, Piano, Keyboards
Eli Nelson
Guitars, Strings, Synths, Vocals
Colin Schlitt
Bass, Vocals
Kenneth B Hard
Drums
Right from the jump, "Floating Away" displays the rich and dramatic production with instrumental flourishes through the first verses. The production also makes good use of dynamics as the mid section breaks down to a simple electric piano before gradually building back up for the climatic finish. "Leave Me Alone" starts with solo piano and distorted lead vocals by Shaw and then adds some strong rhythms, particularly the marching beat by Hard. While dishing generous amounts of theatrical elements, this song is ultimately a basic song of isolation and self-discovery.
"So Low" starts and finishes with a Baroque-style keyboard line mimicking a harpsichord before launching into a driving, U2–style modern rocker with strong rhythms and elongated vocals throughout the body of the song. With a distant and eerie piano intro, "Hey", features well-treated instrumentation throughout and a cool, inverted arrangement which has the bass and drums right up front and the piano and tremolo guitar in the background.
"Yesterday came suddenly, like a car crash you can't see…"
"Gooseberry Fool" may be the best overall track on This Is It. It starts with wailing guitar lead by Nelson, before working into Schlitt's steady, bass-driven verses and Shaw's slow vocal melodies. The song's chorus is more uplifting, accented by rotating synth motifs before Nelson returns with a bluesy guitar lead in vein of David Gilmour.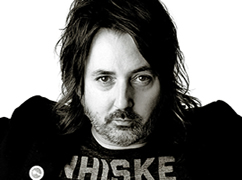 "Raincloud" is the most pop-oriented, happy-go lucky song on the album, although it does employ rich and complex melodies. In contrast, "Shambles" is a solemn steady piano ballad which features a creative bridge section with nice interplay between piano, guitar and vocals. "Wise Words" has a vibe like George Harrison meets Queen, as this bright ballad built on rocking piano and picked electric guitar along with rich vocals, all stuffed into this very short track. "Now You Know" wraps things up as another dark but interesting ballad. The song, as well as the album, ends with an extended guitar lead over a core jam with excellent bass and drums, a very cohesive moment among the four band members.
An Intimate Evening with Michael Shaw is currently playing shows on the West Coast and looking to place music in television and film, which matches up well with the candid and emotional storytelling tracks. They do plan to keep writing and record another album in the near future.
~