A native of North Dakota, Kat Perkins' music has found an audience throughout North America due to both her successful run on the television show "The Voice" and the exceptionally talent way that she uses her potent voice. Earlier this summer, Kat Perkins released her self-titled, full-length debut album which followed her 2014 EP release, Fearless.
Kat Perkins has been singing since the age of 3 and started her first band at age 15. That group was called Northern Comfort and included her sister, father, and other relatives from North Dakota. Shortly after relocating to the Twin Cities area of Minnesota, Perkins started an original rock band called Scarlet Haze, a band which found great local success and opened shows for top touring acts. As a side project, she also did a Quentin Tarantino movie soundtrack tribute band called Zed's Dead and, in 2013, Kat traveled to the Middle East to entertain American military troops. Later in 2013, Perkins successfully auditioned for Season 6 of NBC's The Voice, with the shows being aired nationally during the Spring of 2014. This was a career resurrection of sorts as Perkins' career nearly ended following vocal surgery in 2010 and an extended break from music.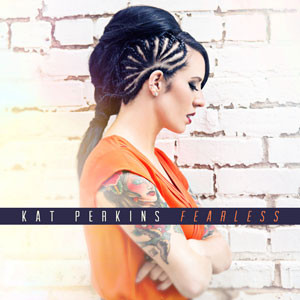 Fearless EP by Kat Perkins
Released: October 14, 2014
TRACK LISTING:
Fearless
Paris
Barracuda
Good Girl
Fearless (Bonus Edition)
During the summer of 2014, Perkins recorded and released the song "Fearless", a hopeful and inspired anthem which also lent its title to the anti-bullying campaign which she started in August of that year. The song was co-written by Heather Holley and Dana Lowry and recorded in Minneapolis with producer John Fields, who also played guitar and keyboards on the track. The song was well received as it hit #5 on the iTunes charts as well as the first round of the 2015 Grammy Awards nominations for Best Rock Song.

With the success of the lead track, Perkins decided to release an EP, filling out the tracks with three cover songs. "Paris" is an upbeat, fun and teasing rocker originally performed by Grace Potter and the Nocturnals, while Kat and the band did a very good job covering Heart's "Barracuda" with added guitar and synth effects, post bridge. On Carrie Underwood's "Good Girl" Perkins' voice is at its strongest on the EP and is accompanied by rich backing harmonies and a fine arrangement. The Fearless EP also features a bonus edition of the title track, which may actually be superior to the original due to the subtle instrumentation such as strummed acoustic and use of orchestral strings.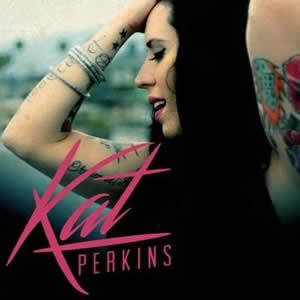 Kat Perkins (2015 LP)
Released: July 10, 2015
TRACK LISTING:
Drive
Take This Heart and Leave
Marry Me
Main Street
Dancing In the Stars
The Hardest Part
When It's Raining
Let's Get On the Road
Building on the momentum of the successful 2014 song and EP, Perkins recorded a full length album in 2015, with all but one of the eight tracks being produced by Eric Warner. On this recording, Kat's vocals are left more natural and raw, which is a good thing. Also, the song arrangements are richer with more rewarding musical performances. Much like the EP, the self-titled album begins with its lead feature track. "Drive" is a straight-forward rocker with strong riffs and lyrics delivered with inspired melodies. Released as a single in June 2015, the song, which was composed by Shelly Fairchild, Peter Amato and Stephony Smith, topped the iTunes rock charts shortly after its release.

Following the upbeat opener, "Take This Heart and Leave" has a darker and more emotionally nuanced feel, which ultimately makes it one of the finest overall tracks. It hits all the right accessible notes without getting overtly tacky. In contrast, "Marry Me" has a funky, new wave feel with strong kick drum and hand-clap effects by Warner during the verses. "Main Street", is an exquisite piano ballad with minimal strings and arrangement by Tommy Barbarella, which serves to give Perkins' vocals room for full feature as highlight. Almost like a lounge performance but with much more unique and special elements, Kat expertly delivers this indelible composition by Elliot Blaufuss.
The second half of the album starts with a return to pop/rock, featuring much synth and beat presence on "Dancing In the Stars". "The Hardest Part", has got a funky beat, decent melody and a short sax solo by Blaufuss, while, "When Its Raining" is another vocal showcase for Perkins as a dark piano ballad with strategic strings. Wrapping things up is "Let's Get On the Road", produced by Perkins and Ryan Lieslman. The track starts with a bluesy harmonica and slide guitar by Joe Savage before it launches into a catchy rock anthem on the experience of touring.
Speaking of touring, Kat Perkins plans to continue touring musically in support of her latest record as well as touring to support her anti-bullying campaign, where she has already spoken to about 30,000 students of all school ages. With both of these initiatives, Perkins is doing what she loves and plans on doing it for a long time.
~



Kat Perkins website
Buy Fearless EP
Buy Kat Perkins (2015 LP)