The Black Sky Sequined by Colorway
August 29, 2015
by Ric Albano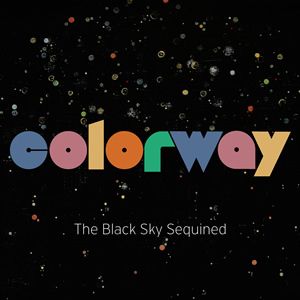 The Black Sky Sequined, is the second album by the Massachusetts-based trio, Colorway. The music is a showcase for vocalist and guitarist F. Alex Johnson, who fuses strong elements of new wave and classic rock with well-formed melodies and arrangements which are just unique enough to give everything a nice edge. While the compositions on the surface seem standard, even simple, they each contain enough underlying complexity to require additional listens to fully catch and appreciate everything presented here.
For about a decade through 2008, Johnson and drummer J.J. O'Connell were in an alt-rock group called Drunk Stuntmen. Johnson admits that he embraced the "Drunk" part of the group's name too strongly and decided to leave the group and take a break from music for several years. However, the music sought Johnson out as he woke at night with new melodies in his head which he slowly developed into songs. In 2012, he got back in touch with O'Connell and recruited bassist Dave Hayes to rehearse and record new music. The result was Colorway's self-titled debut album which was released in June 2013 with the trio playing their first ever live gig at the CD release party. Both the recording and live performance were well received and the group has been steadily playing since.
While Johnson again wrote most of the material for The Black Sky Sequined, the sound was forged more collectively as a true working band. Like the debut, this album was recorded at Sonelab in Easthampton, MA and co-produced/engineered by Mark Alan Miller, with whom Johnson has been working for about twenty years. Further, it was mastered by Grammy Award winning Bob Ludwig, who has over 3,000 credits to his name dating back to The Beatles, the Stones and Jimi Hendrix. The album got its title from a poem written by Johnson's late mother, Judy.
The Black Sky Sequined

by

Colorway
Released: May 5, 2015
Produced by: Mark Alan Miller & Colorway
Track Listing
Primary Musicians
Gen Exit
Come Back July
I Don't Want To Go Home
Explain
Me and My baby
The Cycle
Tiny Town
Everybody Wants Me To Love You
I Never Changed
Telephone
F. Alex Johnson
Guitars, Vocals
Dave Hayes
Bass, Vocals
J.J. O'Connell
Drums, Percussion, Vocals
The album begins with "Gen Exit", with a straight forward pop/rock drilling riff until more variety is added to the riff in the later verses. The slight guitar lead is simple but effective, with the profound lyrical message of; "Its awful gray between holding your own and just hanging around." "Come Back July" features a strong, thumping bass and overall rhythm throughout the verse that really draws in the listener. The highly melodic vocals that get the point across of the lyrical theme of life going by too quickly. The first single from the album, "Come Back July" was actually written by Johnson ​between 9pm and midnight on July 31st, where the prospect of August meant the coming of Fall and the cold of New England.
Come back July I never said goodbye, Light all those lonely Roman candles into that August sky…"
"I Don't Want to Go Home" is a song which has a different vibe than the previous two, a much more classic rock approach, especially with the thick, bluesy electric guitars and fine guitar lead by Johnson, arriving for the first of many times on the album. This song also references the album's title in the lyric. "Explain" has a jazzy rock approach, especially with the animated bass and top notch drumming by the rhythm section. There is also a different melodic approach originally before the song does eventually build with a stronger rock arrangement. In contrast, "Me and My Baby" has a dark country/rock feel, slow and direct with plenty of room for strong guitar notes to whine throughout this six minute, extended track. This complex song goes through various interesting changes in the middle before returning to the main theme and a fantastic ending guitar riff which persists through a long outro with multiple vocal harmony parts reminiscent of a technique used by Phish.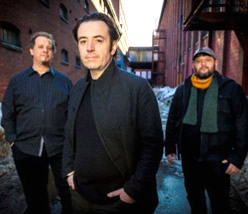 The oddest song on the album, "The Cycle" begins with rich vocal harmonies over a simple intro guitar before the song then enters a long guitar lead for its entertaining duration. "Tiny Town" returns to pop/rock with assertive riffing between the melodic words and animated drumming by O'Connell that nicely works in tandem with the thumping bass line of Hayes. A later overdubbed, whining guitar dances around the crunchy original rhythm guitar, which never relents in the mix, offering some odd musical tension that makes this track distinct. "Everybody Wants Me to Love You" is, perhaps, the closest to filler on the entire album, not all that terrible as a rapid ska-influenced track, but also not all that inventive compared to the rest of the music.
"I Never Changed" is a bluesy song with entertaining lyrics and an interesting overall arrangement which was co-written by Jodi Lynn Nicholas. Overall, the measured interplay between lead vocals and guitar licks make it one of the stronger tracks on the album. Perhaps the strongest overall, is the closer "Telephone", which starts as a happy-go-lucky pop song commenting on contemporary culture and reliance on technology. Later on the song makes some interesting turns before it finishes with an excellent, extended guitar solo along with the inclusion of a slight horn section as a closing jam which leaves the listener wanting for more.
On T​he Black Sky Sequined the group successfully forged the kind of music which maximized their talents while being accessible to a large listening audience. In total, Colorway has released one of the finest rock albums of 2015.
~
Colorway website
Buy The Black Sky Sequined