The Cordial Sins is an interesting five-piece rock group from central Ohio. They have forged a unique sound which draws from many genres and musical influences for their debut LP, Daze, released in late 2015. The sound on this album is at times dark and mesmerizing, at others light and funky, but always solid with strong compositions and an overall listen that develops slowly but gets stronger and stronger as it goes along.
The group originated in 2012 when guitarist/vocalist Corey Dickerson met vocalist and multi-instrumentalist Liz Fisher and the two began composing music together. At the time, Fisher was a student at Ohio State studying classical violin and the original group formed with Levi Brown as bassist and lead vocalist. In 2013, drummer Jeremy Miller joined the group and they officially became The Cordial Sins. Over the next two years, the group experimented with their overall sound, added second guitarist Kyle Edwards and replaced Brown with bassist Alex Randall as Fisher moved to become the sole lead vocalist.
Recording of Daze took about a year and a half (February 2014-September 2015) as the group was unsatisfied with many of the first recordings and decided to start over. Further elongating the process were some lineup changes as well as the long commute to Athens, Ohio, where the group worked with producer Eddie Ashworth at his rural studio, The Oxide Shed. Typically, Fisher and Dickerson composed a basic outline for a song before presenting it to the band, with all five members contributing to every track.
Daze

by

The Cordial Sins
Released: November 7, 2015
Produced by: Eddie Ashworth
Track Listing
Group Musicians
AM
You
Sway
The Fall
Places
The Wind
Overboard
Goodbye
Dangerous State
Give It Up
Fringe
Liz Fisher
Lead Vocals, Violin, Piano, Keyboards
Corey Dickerson
Guitars, Vocals
Kyle Edwards
Guitars
Alex Randall
Bass
Jeremy Miller
Drums, Percussion
Driven by Randall's methodical bass line, "AM" commences the album with a long intro build up before most of the music drops out for a vocal-driven first verse run. The short but potent song builds back up for a closing crescendo which sets up the more traditionally arranged "You". Fueled by the upbeat drum pattern of Miller, this very entertaining pop/rocker features fine and melodic hooks with Fisher providing exceptional lead vocals, especially when she hits some high notes during the bridge. Lyrically, the song focuses on the notion that what one says and does can affect the lives of others. "Sway" follows with a more mellow approach, built on musical soundscapes through the intro. This later breaks into a fuller arrangement with a marching drum beat and distant slide electric guitar licks followed by a later atmospheric guitar lead by Dickerson.
"The Fall" is the first of several to feature Fisher on violin as a somewhat upbeat atmospheric love song which also has nice blended guitars and fine melodies and harmonies as well as a wild, synth effect at the end of the track. "Places" is built on strong, up-front drums contrasting the laid back guitars and piano during the verses. The drum beat remains consistently aggressive while the melodies and other instrumentation alternate between differing levels of intensity. "The Wind" features a unique sound which falls somewhere between traditional funk and modern country, made all the more unique with slide guitar and synth accents throughout, while "Overboard" is the most upbeat track thus far, complete with opening "la la la" chants and harmonized backing vocals.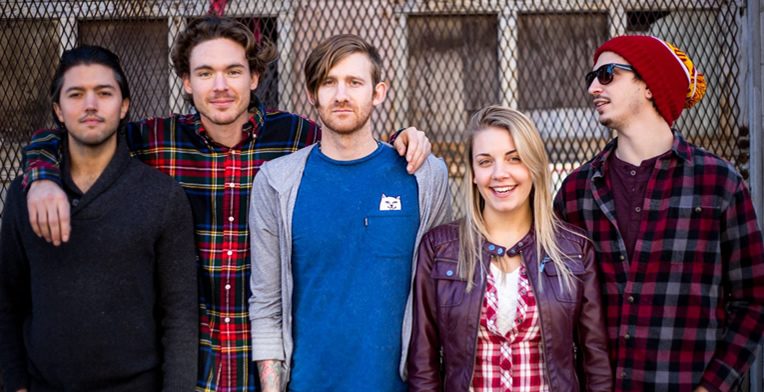 A classic-sounding pop song, "Goodbye" draws influence and elements from the sixties and the seventies, especially in the heavy use of strings and doo-wop like rhythms. The group originally brought in Liz's father, Scott Fisher to play piano on this track but weren't able to ultimately use his version. "Dangerous State" has a straight-forward disco beat and lyrics inspired by the skin-changing character, Beorn, from The Hobbit. "Give It Up" is anther rhythmic-driven, nearly "dance" tune with animated bass, and synths persisting throughout, making for for a thick, but not unpleasant atmosphere. The album concludes with its most interesting track, "Fringe". A chorus of overdubbed violins (10 violin tracks according to Fisher) tops the funky rhythms with good lead vocals, acoustic guitar, and an amazing amount of simultaneous musical elements packed in without it ever sounding muddled. The song nicely dissolves with a closing chorus of violins to close out this fine album.
At this date, The Cordial Sins are continuing to perform regionally to promote Daze in front of new audiences. The group, which now includes James Weaver on bass, does plan to head back to the studio in the near future.
~
The Cordial Sins online
The Cordial Sins website
Buy Daze