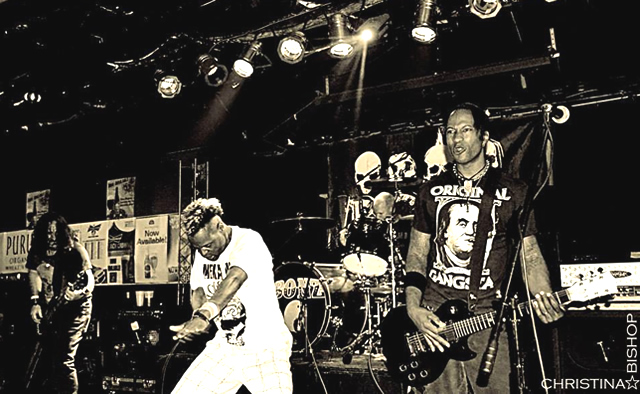 Bonz is group from Atlanta, GA named after the lead vocalist who effectively fuses rap and rock with flair and attitude. This four-piece group also features guitarist Curt Taylor, bassist Don Leslie and drummer Erin Stagg. Beginning on July 17th, the group will embark on a tour (dates below) to support their album Broken Silence, released earlier this year.
Bonz, the front man was a pioneer of the rap/rock genre dating back to 1989 with the group Stuck Mojo, which had a long and successful career through the 1990s and 2000s. Bonz first worked Taylor in the group Killer in the Workplace, starting in 2009. This latest group was formed in 2011 and worked hard to forge the sound on this debut record, recorded in 2014 in Georgia and Florida.
The upcoming tour will range from their home in the Southeast to the Midwest and Southern Plains of the USA and will be supported by A.D.D., Divided We Stand, and A.M.M.
Bonz 2015 Tour
| Date | Location | Venue | Supporting Act |
| --- | --- | --- | --- |
| 7/17 | Hickory, Nc | The Wizard Saloon | |
| 7/18 | Winston Salem, Nc | Ziggy's | |
| 7/30 | Muskegon, Mi | Deano's | ADD |
| 7/31 | Lansing, Mi | The Loft | ADD |
| 8/01 | Griffith, In | Sopranos | |
| 8/02 | South Bend, In | Cheers | ADD |
| 8/05 | Akron, Oh | Empire | |
| 8/06 | Mansfield, Oh | Planet Rock | |
| 8/07 | Dayton, Oh | Oddbodies | ADD |
| 8/08 | Indianapolis, In | Emerson Theatre | ADD |
| 8/09 | Cape Giradeau, Mo | Pitter's | |
| 8/10 | Jackson, Tn | The Empourium | |
| 8/11 | Clarksville, Tn | The Warehouse | |
| 8/12 | Nashville, Tn | Daisy Dukes | Divided We Stand |
| 8/13 | Knoxville, Tn | The Long Branch | Divided We Stand |
| 8/14 | Chattanooga, Tn | Ziggy's Underground | Divided We Stand |
| 8/15 | Beckley, Wv | Muncheez | Divided We Stand |
| 9/11 | Slidell, La | The Corner Pub | |
| 9/12 | Dallas, Tx | Torch | |
| 9/13 | Lubbock, Tx | Depot Obar Live | |
| 10/9 | Sanford, Fl | West End Trading Co. | A.M.M. |
| 10/10 | Jacksonville, Fl | Jack Rabbits | A.M.M. |
~
Bonz Online:


  


Bonz Website
Buy Broken Silence