Released: November 13, 2015
Produced by: Christian Moos
Track Listing
The Faceless And The Shore
Aether – A Lunar Year
Ashes Decay
Pax
The Colossal Empire
Holy Water
A Question Never Heard
Group Musicians
Sabina Moser – Lead Vocals
Jan G̦pelt РGuitars
Joel von der Heiden – Keyboards
Christopher Streidt – Bass
Rik Schindler – Drums
A progressive rock quintet from Germany, Ashby, has delivered a strong and unique debut with the LP Fragmental. The album features seven extended-length, well produced songs with dynamic musical performances and well–crafted arrangements. Complementing the music is the voice of front-woman Sabina Moser, who completes the the musical experience with her vocal talent.
The group was formed in 2011 and spent several months writing and composing for their 2013 EP, A Question Never Heard, which included three extended tracks. The success of this release got the band some attention and they were invited to play popular festivals in Europe. In 2014, Moser participated in Germany's version of "The Voice", which gained her and the band some mainstream notoriety.
Work on Fragmental started in late 2014. The piano of Joel von der Heiden, bass of Christopher Streidt and guitars of Jan Göpelt were recorded independently by the group, while the drums of Rik Schindler and Moser's vocals were captured in professional studios. The album was produced by Christian 'Moschus' Moos, financed through an extensive crowdfunding campaign and released in late 2015 to critical acclaim. Most of the material was composed and developed collaboratively by the group through jamming sessions in their rehearsal room.
From the opening track. "The Faceless and the Shore", which shows the group's range of musical motion, alternating between heavy metal and symphonic pop to the heavy closer, "A Question Never Heard", the album is an odyssey of rock movements and moods. "Aether: A Lunar Year" is the first of two thirteen minute epics, as it slowly and methodically works its way in with Göpelt's good guitar textures and leads. Later parts contain xylophone-like percussion before exploding into a hard rock riff, while late in the song it dissolves into a piano ballad to usher out the extended piece. The other epic track is "The Colossal Empire", which comes in strong with a with a rudiment-filled intro before the song mellows in the vein of Pink Floyd for a short moment before roaring back to full intensity and hitting on all cylinders for pretty much the rest of the extended song.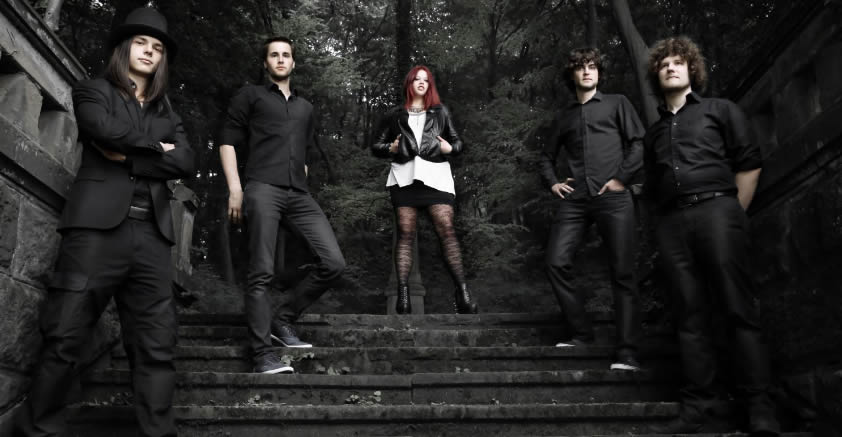 The rest of the album features other fine tracks, including "Holy Water" and "Pax", two of the shorter tracks on the album at a mere six plus minutes each, with "Pax" being a dark but sweet piano ballad with rich vocal harmonies. "Ashes Decay" may be the most interesting track, starting with a strong rock riff and working its way into a slightly-funky bass verse section and later comes a multi-vocal, nearly monk-like chant by a chorus made up of von der Heiden, Moser and about six other guest singers.
Ashby plans to release an album of acoustic arranged versions of songs from Fragmental in December 2016, with plans to compose new tracks in the future works.
~
Ashby online