Choice 5 for February 2015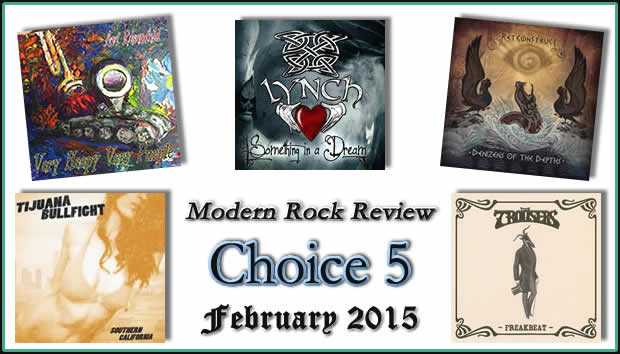 We present a very diverse group of hard-rock oriented music within the five LPs of Modern Rock Review's Choice 5 for February 2015.
---
Lynch has basically the same lineup today as they did when they formed way back in the early eighties (although they did take a multi-decade break in between). This Chicago-based group employs original and melodic hard rock on their latest LP, Something In a Dream, which highlights the group's diverse blend of sub-genres and maintains their energetic live appeal throughout.

   


Lynch website
Buy Something In a Dream
---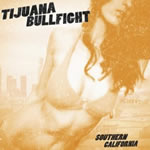 Southern California by Tijuana Bullfight
Southern California has a real nineties grunge vibe, complete with Cobain-esque vocals and STP-style compositions. The album celebrates the geographic origins of the rock quintet Tijuana Bullfight and features some rich production techniques and strategically placed guitar effects. Some of the standout tracks include the solid opener "Desire", the strong rock ballad "Heaven", and the richly arranged closer "Think About Me".

   

   


Tijuana Bullfight website
Buy Southern California
---
Very Heepy, Very Purple by Avi Rosenfold
While the title of this unabashed tribute to the seventies era jams of Uriah Heep and Deep Purple may suggest a cover band, Very Heepy, Very Purple is actually filled with brilliant originals which draw dedicated inspiration from these sources. The brainchild of composer, guitarist, and vocalist Avi Rosenfeld, this 2013 album contains great, authentic jams by a crew of impressive rock musicians.


Listen to Very Heepy, Very Purple
---
Hailing from Budapest, Hungary, The Trousers perform upbeat and furious, but very accessible hard rock. The fine 2013 LP Freakbeat, has not a flaw in performance or production, with fine sonic dynamics and cool, diverse compositions. Some of the album's highlights include the opening jam "I Get Around", the brilliant "Electric Garden" complete with elements of late-Beatles era John Lennon, and the pure seventies hard rock of the title track.

   


The Trousers website
Buy Freakbeat
---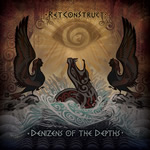 Denizens of the Depths by RetConStruct
The mixed-gender thrashers RetConStruct (Retroactive Continuity Construct) is a group from Northern California which blends theatrical prog metal and along with the head-bashing raw stuff. On Denizens of the Depths, the quintet provides musical nods to a vast array of dark, symphonic musical influences and imaginative lyrics.

   

   


RetConStruct website
Buy Denizens of the Depths
---
See you on Thursday, March 5th for the next installment of Choice 5!
~
Modern Rock Review's look at 5 new album and EP releases, published on February 5, 2015.