September 14, 2014
by Ric Albano
Purchase Mushaboom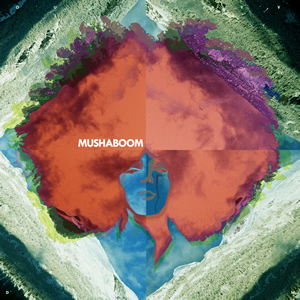 Hailing from the great white north of Finland, the dynamic rock quartet, Mushaboom, produced a very impressive self-titled debut album. Released in mid 2103, this classic-rock flavored album is loaded with tracks that paint vivid pictures through simple, straight-forward lyrical lines, themes, and phrases, while the exceptionally diverse music provides buckets of sonic treats on top of the solid rock core. That group lists their major influences from the classic rock era of the sixties and seventies, particularly Cream and Led Zeppelin, and there is little doubt they carry much of the same approach and vibe. However, Mushaboom also offers their own blend of styles, ranging from jazz to folk to psychedelic influences, which serves to make this album interesting and original.
Mushaboom was founded in late 2011 by guitarist Risto Pajari in the city of Tampere, Finland. Pajari enlisted his cousin, Lester Brisco, as the lead vocalist and both had been in several Finnish bands previously. Once the pair found a suitable rehearsal spot, they brought on bassist/keyboardist Daniel Strauß and drummer Harri Mikkola. The quartet spent several months writing and rehearsing in early 2012 and played their first gig in March of that year.
Recordings for this album were made during various sessions in Tampere between March and September, 2012 and all tracks were produced by the band members themselves. "Contradictional Colours" starts things with simple rock motifs and a standard verse/chorus arrangement. Still, it is clear that the underlying musical approach is unique, and this is validated when the song takes off into a frenzied guitar riff and lead jam after about four minutes in. "The Way It Is" is hyper funk/rock with a strong seventies vibe, especially during the response and call vocals during the chorus. Pajari and Mikkola each have brief showcase leads during the equally hyper bridge. Lyrically, the song makes a clever analogy between a tree falling in the woods and a man's opinion still being wrong, when his woman is not around.
The album takes its first sharp turn with the dark and moody "Controller of the Weather". Built on Pajari's layered acoustics and poetic words, Brisco shares vocals with Finnish female singer Ronja Verona. "Small Hours Tea with Milk" is slightly jazz influenced but with many more styles mixed into the blend, making it the most interesting and unusual track on the early part of the album. The minimalist sections are held together by the animated bass line of Strauß, who later adds a long, psychedelic organ section before the song breaks into a full rock arrangement led by a multi-section guitar lead.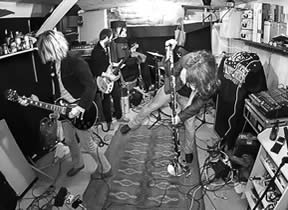 The mostly instrumental "Sinisessa Huoneessa" starts with a singular spoken voice (I assume in Finnish) and travels through eclectic sections with spoken vocal effects and sound effects spread throughout. Starting as a straight-forward, riff-driven rocker, this track becomes more complex as it goes along and includes some saxophone played by guest Ilkka Ferm. "Dandelion Beach" is a mini-suite that commences with deep, picked guitars and dramatic vocals for a couple of lines before reaching a more upbeat second section with deadened guitar notes, harmonica, and excellent, choppy drumming by Mikkola. A later, bluesy guitar lead lays on top of this arrangement masterfully to bring home this track which was one of the earliest recordings by the band.
Mushaboom concludes with two extended tracks that each stretch over six minutes. "Schodinger's Cat" features lots of wah-effects during the extended intro and becomes a sound-laden rock song with various keyboards added by Jussi Kulomaa. The song gets a little deep and philosophical with the lyric "everything happens at the same time, but only in a different reality". "Plant a Seed" continues the mood from the previous song during the prolonged entrance with heavy chorus on guitars. It breaks into a Western-type strummed, acoustic folk tune with an accessible theme and a reserved, hand percussion rhythm throughout. This closing song does meander a bit through its seven minute duration but comes back strong at the very end.
In total, this album is an original, interesting, and entertaining listen and it is hard to say anything negative about the album. Production wise, there are a few points when the amplitude seems a little uneven, especially with some of the lead vocals getting lost in the mix, but these issues are very minor compared to the highlights on this album.
Following Mushaboom's release on the 57 records, the band increasingly played gigs through Southern Finland. In the Autumn of 2013, Lester Brisco left the group amicably, and was replaced by vocalist Joonas Naskali in Summer 2014. The band is currently writing new material for a future recording and planning shows for late 2014.
You can find out more information on Mushaboom on their website, Mushaboom.fi.
~