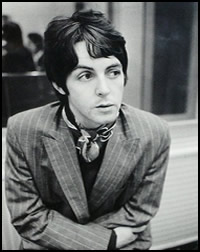 Born to a working class northern family in the port town of Liverpool, England, James Paul McCartney has come to be a living embodiment of Great Britain itself beyond all the multiple trends which came out of London through all those vast years.
All along his long career, he has stepped in and out of the larger societal world by swerving in and out of various political and social lanes before retreating into the calmer confines of his music. Through much of the early years, he was a follower of his partner and rival John Lennon – when Lennon wrote the childhood memoir "Strawberry Fields Forever", McCartney countered with "Penny Lane", when Lennon brought his wife Yoko into the studio and onstage, McCartney brought his wife Linda into his band Wings, when Lennon recorded the hyper-political Sometime In New York City. McCartney countered with "Give Ireland Back to the Irish". However, unlike Lennon who pretty much wore his heart on his sleeve with his music closely following, McCartney has been more spastic and erratic in both his "social consciousness" and music.
This is what makes Paul McCartney in many ways more interesting than any of the Beatles. Even though he may be the most famous man in the world he is an enigma and you can't help but wonder if there isn't much to be revealed about him in the end. After all, he may be the last one left alive (50% chance) but he was also the first one dead. Today, the musical genius who accomplished more before "28 IF" than most of us will do in a lifetime, celebrates his 70th trip around the sun.
~