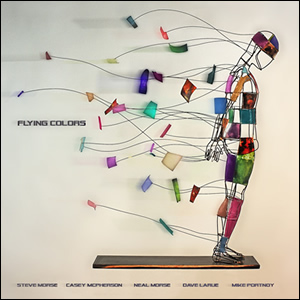 Who says super-groups are dead? Here in 2012 we have a fantastic initial effort by a group called Flying Colors, who released their eponymous debut in March. The project was the brainchild of executive producer Bill Evans, who came up with the idea for a new group made of established prog-rock musicians in 2008. Trying to find the right combination of extraordinary players that could compliment each others' creative abilities and form the right chemistry was no easy task. Evans also knew he would need the right producer to bring out the best in the studio so he enlisted Peter Collins, who has a resume of over 100 albums.
As for a description of the band itself, the Flying Colors website puts it simply –
"virtuoso musicians and a pop singer joining to make new-fashioned music the old fashioned way…"
Drummer Mike Portnoy, a founding member of Dream Theater who left that band after a quarter century in September 2010, provides the backbone rhythmically as well as the common thread between all the players involved in the project. Joining Portnoy is guitarist Steve Morse, who has an impressive rock resume dating back to the mid seventies, playing in a slew of bands from Dixie Dregs to Kansas the Steve Morse Band to Angelfire to Deep Purple. Bassist Dave LaRue played with Steve Morse in Dixie Dregs and the Steve Morse Band and also played bass for the group Planet X, as well as solo albums by guitar greats John Petrucci and Joe Satriani. Keyboardist Neal Morse (no relation to Steve) played with the prog rock outfits Sprock's Beard and Transatlantic.
And then there is the wild-card, singer/songwriter Casey McPherson, who previously played with the band Alpha Rev. Evans and Collins reviewed over 100 top contemporary singers, but no one was quite right until Portnoy casually mentioned that he knew a guy that turned out to be McPherson. Once the rest of the band members heard his range and versatility, they knew he was the right man for the job and all the pieces were in place. Now they had to come up with suitable material.
The band was able to procure just nine days in January 2011 to compose and record the entire album. It was quite a challenge to blend folk, prog, pop, and metal all into one big recording, with several players and a producer who had never worked with each other before. The very presence of a strong producer was foreign to most of the band members who had produced much of their own material in the past, but within the first day they were all able to realize Collins' value. And by the end of that first day, they had their first song, "Kayla" mostly written. This pop-oriented song starts with a classic acoustic before giving way to picked electric during the song proper and contains a nice couple of guitar leads by Steve Morse. As LaRue put it
It was quite an experience, the band moved at a fast pace, ideas flying around the room at all times with sections of tunes arranged, then re-arranged, ideas were tried every which way until we made them work…"
The opening track "Blue Ocean" was also written early in these sessions. The song begins with LaRue's rotating bass line and progresses into a jazzy fusion piece with very melodic, layered vocals that sing about destiny and immortality.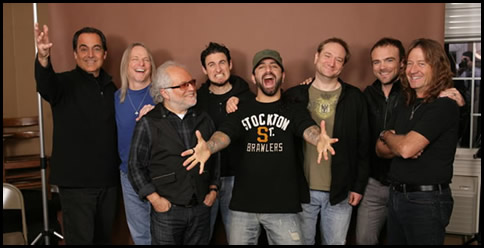 In March of 2011, a shorter second session was held to record final vocals and let Collins work out the final arrangement of the songs. As word spread about this project, several labels were interested in signing the band. They ultimately opted to use Neal Morse's Radiant Records label for release. It is clear that McPherson influenced some of the more pop-oriented tracks. On "Love Is What I'm Waiting For" the vocalist really shows range above Neal Morse's Beatles-meet-Queen piano riff and Steve Morse's Brian May-like lead. "Better Than Walking Away" is a moody song with more great vocals while "The Storm" sounds like it is influenced by the late 70s band The Babys, but with the bonus of a very dynamic rhythm in bass and guitar.
Diversifying the album are some pure, heavy rockers, starting with the Portnoy-driven "Shoulda Coulda Woulda", built on a strong riff with the vibe of Stone Temple Pilots. "Forever In a Daze" starts off with Hendrix-like guitars before breaking into a cool, rudimental funk while "All Falls Down" is wild and spastic with double-kick drums, a quasi-heavy metal piece that takes a complete turn from some of the melodic singer/songwriter tracks earlier in the album.
Then there are also a couple extended prog-influenced pieces, the majestic and melodic "Everything Changes" and the twelve-minute album closer "Infinite Fire", an epic, bass-driven, piece with great, Rush-like rudiments and interplay between LaRue and Portnoy.
Flying Colors has created an album that is at once fresh and nostalgic, with songs full of energy and new musical ideas. Yes, it appears that the "supergroup" is alive and well.
~