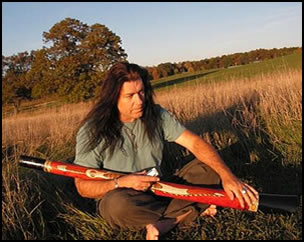 Is blues music an experience or simply a feeling? Is it possible for a blues artist to come from an exotic locale? We love exploring music that shatters pre-conceptions about genres and artists who transcend conventions. Harper is definitely such an artist. He composes and performs roots-oriented, spiritual, pure, and honest music. Music that some try to describe as "world fusion", but it really is the blues with an exotic instrument added to the mix. That instrument is the didgeridoo, an Australian aboriginal wind instrument which is traditionally made from termite-hollowed eucalyptus trees. No two of these instruments are exactly alike, giving each a distinct, signature sound.
Harper's music is unusual in the sense that you really haven't heard anything else quite like it before and attempting to squeeze his sound into a specific "genre" is counterproductive. It has its own life. But we write and so we must describe it for those not yet fortunate to hear this sound. So, the blues is where it all begins, mainly because Harper is a fantastic harmonica player and this is where he really shines. But unlike traditional blues, his music is not guitar-driven. It is quite appealing how understated, yet solid, the entire rhythm section is in most performances. But this is a necessity to experience the soothing, earthy drone of the didgeridoo which occupies many fills between the verses alternating with the dynamic blues harp licks. But the song craft itself deviates beyond the blues towards a more rock-oriented approach, topped off by Harper's voice which is reminiscent of a calmer, lower-registered Ian Gillan. So, like we said, it is really hard to squeeze Harper's sound into a specific genre.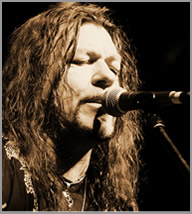 Today (April 10, 2012), Harper released a new live album called Live At the Blues Museum. The performance was recorded on Saturday December 17, 2011 in Windsor, Ontario, Canada. It was the evening when Harper was inducted into the Blues Museum Hall of Fame and he and his band performed before a packed house of his fans, many from his current base in nearby Michigan. The CD features 15 tracks for a combined 75 minutes of music and will be followed by a television presentation due to be aired later in the year. On Live At the Blues Museum, Harper is backed by his band, The Midwest Kind, which includes Matt Besey on guitar, Chris Wiley Smith on bass and Scott Key on drums. The album was released on the blues label Blind Pig and follows three previous studio releases on that label, Down To the Rhythm in 2005, Day By Day in 2007, an Stand Together in 2010 (more on this album later).
Peter D. Harper was born in the United Kingdom and his musical journey began early, playing the trumpet and euphonium. He and his family relocated to Perth, Australia when Peter was ten years old. Although Perth is one of the most isolated cities in the world, there was a thriving blues and folk scene and this raw and honest music affected Harper deeply. He explored the roots of this music, discovering legends like Muddy Waters and Sonny Boy Williamson as well as contemporaries like Little Walter, John Hopper, and Stevie Wonder.
Harper was also fascinated with the spirituality of indigenous people, especially the Australian Aborigines of his homeland. When he decided to learn to play the didgeridoo, he also made a commitment to learn about the Aboriginal culture and their spiritual connections to the land. When he added the didgeridoo to the more traditional blues instruments, he found that the deep woody qualities and its haunting drone enhanced the emotional quality of his stories. As he put it;
"the didgeridoo is a spiritual and healing instrument, and it seemed blues music accepted it with open arms…"
In the 1990s, Harper released six albums to great acclaim in Australia, starting in 1994 with Tears of Ice. This was followed by Yesterday Is Over in 1996 with his band Blue Devil and Live At the Soup Kitchen in 1997, again as a soloist. He released three more independent albums in the early 2000s, and received multiple Australian Blues Awards, including "Male Vocalist of the Year," "Song of the Year," and "Acoustic Artist of the Year." He was even invited perform at a Royal Gala Performance for the Queen of England in Perth, Western Australia.
Through his prolific career, Harper has played in the USA, Canada, Germany, Austria, Switzerland, Singapore, the United Kingdom, Italy, Belgium and France. His first U.S. performance was in 1996, after which he began touring the States regularly. Some of these early tours were sponsored by the Australia Council for the Arts. Harper has opened for such legends as B.B. King, Van Morrison, George Thorogood, Buddy Guy, and John Mayall. Now based in Michigan, Harper continues to tour frequently, especially in the U.S.A.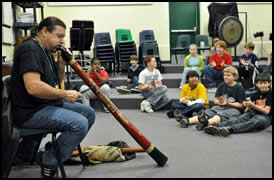 We saw Harper perform at Brigg's Farm Blues Festival in Central Pennsylvania in 2010 and thoroughly enjoyed his performance. So much so that we immediately purchased his Stand Together CD. After he played his set on the main stage, he gave a demonstration on the didgeridoo for a small crowd on the back porch stage. He explained the historical and spiritual significance of the instrument to the aborigines and gave a lesson on how to build your own out of PVC pipe.
While Harper is known as that Australian guy who plays that odd Aboriginal instrument, he is first and foremost an accomplished harmonica player. He has an earthy vibe about him that resonates throughout the Stand Together album. "I Never Want" sets the mood as the didgeridoo enhances the drum beat with its primitive droning. It is a nice anthem with a chanting hook and perfect amount of harmonica. "Looking at You" is a bluesy, acoustic-driven tune with the distinctively non-bluesy voice of Harper. This is followed by a couple of 60s-ish hippy anthems, "We Stand Together" and "Love=Peace=Freedom", the latter being like Harper's take on John Lennon's "Imagine".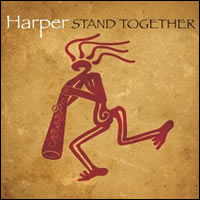 The didgeridoo returns on "You Know What You Got", fitting into the short breaks above the funky beat. But the outstanding harmonica is what really shines throughout this album, especially during the rocker "No Problem". Other standouts on Stand Together include the Robert Cray-styled "Weaker Man", the pure blues of "Not My Brother", the bass-driven "Chill Out", and "Take These Arms", an R&B ballad with prominent piano and organ, which acts as the counterpoint to the "walk on by" theme of previous songs. Beyond the songs themselves, Harper displays incredible production skills on this album. All the diverse instrumentation is presented in a clear, un-muddled, yet entertaining fashion. Stand Together reached number 10 on the Billboard Charts and the US Roots Music Charts and number 2 on the XM/ Sirius Bluesville national Charts in 2010.
Harper is an original, playing the harmonica like an authentic Chicago bluesman, singing about unity and love like a member of peacenik jam band, belting crisp vocals like a straight-up classic rock performer, and then pioneering the didgeridoo into these popular forms of modern music, to make it all timeless. He intricately weaves these sounds together and makes it all very entertaining and fun in the process. Unique and quality music of this kind is truly a rare treat.
~
Karyn Albano