Brainwashed by George Harrison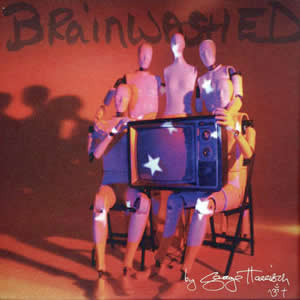 Nearly a decade and a half in the making, Brainwashed, the fantastic final album by George Harrison, contains not a single weak moment through the album's twelve tracks. Although the album was released nearly a year after Harrison's death, in November 2001, the final production sessions and arrangements were done to the exact specifications of the legendary former Beatle's final instructions and carried out by co-producers Jeff Lynne and Dhani Harrison, George Harrison's only son. The result is a subtle but potent album that perfectly portrays the rich, four-decade musical legacy of the Liverpool native who has often been overshadowed by his more celebrated former band mates. Modern Rock review has chosen Brainwashed as our initial review in the "Modern Classics" series, as this 2002 release may be as solid a swan song as has ever been composed.
Harrison had a major career renaissance in the late 1980s with the dual success of his solo record Cloud Nine in 1987 and the initial The Traveling Wilburys album the following year (both of which he worked on with Lynne). With this commercial and critical success it is surprising that Harrison's output decidedly dropped in the following decade, with his only published contributions being with the second Wilburys' album in 1990, the compilation of the Beatles Anthology albums and documentary in the mid nineties, and a minor role in collaboration with Ravi Shankar in 1997. During this long span, Harrison slowly composed and recorded the tracks that would become Brainwashed in a sporadic manner, with progress for the completed album delayed due to business and health problems.
Once these health issues advanced and Harrison realized that it was likely terminal, he brought in Dhani and Lynn and instructed them on which instruments were yet to be added and where with great specification. This included an exact timetable and session bookings which George had booked and the surviving duo carried out to complete the 14 year project. Upon its release, Brainwashed received critical praise, with some (in our opinion, correctly) lauding it as it among the finest of Harrison's albums. However, there were relatively sluggish sales, as the album barely cracked the Top 20 in the U.S.

Brainwashed

by

George Harrison
Released: November 22, 2002 (American)
Produced by: George Harrison, Jeff Lynne & Dhani Harrison
Recorded: Friar Park Studios, Oxfordshire, England 1988-2002
Track Listing
Primary Musicians
Any Road
P2 Vatican Blues (Last Saturday Night)
Pisces Fish
Looking for My Life
Rising Sun
Marwa Blues
Stuck Inside a Cloud
Run So Far
Never Get Over You
Between the Devil and the Deep Blue Sea
Rocking Chair in Hawaii
Brainwashed
George Harrison – Lead Vocals, Guitars, Dobro, Ukulele, Keyboards, Percussion
Jeff Lynne – Bass, Guitars, Piano, Keyboards, Percussion, Vocals
Dhani Harrison – Guitars, Keyboards, Vocals
Jim Keltner – Drums, Percussion


The album kicks off with the first composition written for this project, dating back to 1988. "Any Road" is at once a fun "travel" song, in the tradition of sixties pop, but is also a deeply philosophical look at the big picture. The last Harrison song to be released as a single, "Any Road" reached the Top 40 on the U.K. Charts. Lyrically, the tune seems to be a general call for purpose;
I keep traveling around the bend, there was no beginning, there is no end
It wasn't born and never dies, there are no edges, there is no sides
Oh yeah you just don't win it's so far out, the way out is in
Bow to God and call him Sir, but if you don't know where you're going any road will take you there…"
On "P2 Vatican Blues (Last Saturday Night)", Harrison makes an allusion to his cancer and sealed fate, while also being a bit sniping and snarky against the Catholic church. "Pisces Fish" also seems to address mortality with the line "the river runs through my soul". Musically, this song has good acoustic guitar and other fine sonic textures while the vocals are rough but potent and very effective when considering the tragic backdrop.
The heart of the album begins with "Looking for My Life", fueled by excellent acoustic with electric overtones and very melodic vocals. This track harkens back to early 70s era Harrison with the type of subtle riffing which makes it an instant classic. "Rising Sun" may be akin to a modern day Beatles track as Harrison performs his signature slide electric above the blended backing of acoustic, ukulele, and fine strings arranged by Marc Mann. Musically top notch with cool leads and phrases, the song is also vocally melodic, with slight backing vocals by Lynne, and lyrically very spiritual and existential;
But in the rising sun you can feel your life begin
Universe at play inside your DNA, you're a billion years old today…"
"Marwa Blues" is a slow and bluesy instrumental with the guitar lead reminiscent of Eric Clapton or David Gilmour. The song won a posthumous Grammy for Harrison in 2004 for Best Pop Instrumental Performance. Speaking of Clapton, the track "Run So Far" was originally written and recorded for his Journeyman album. On that original recording which Harrison performed guitars and backing vocals, the contrast between guitar styles was more striking. However, it is clear that Harrison's vocals fit this song better and the Brainwashed recording feels like it has reached the place where the song was meant to go the whole time. "Stuck Inside a Cloud" comes right in with lead over acoustic and never relents from its upbeat, but slightly melancholy vibe. Dhani Harrison chose this as the seventh track on the album, as seven was his father's favorite number and this was reportedly George Harrison's favorite track on the album.
The album closes with a group of tracks with diverse styles. "Never Get Over You" is a bluesy love song with great production and more fantastic, melodic vocals. Somber and subtle, the song sounds like it could have been a big radio hit in the 1970s. "Between the Devil and the Deep Blue Sea" was recorded in 1992 as a perfectly executed 1930s ukulele song, with just enough modern production to make it very interesting. This track features some potent lead piano by guest Jools Holland. "Rocking Chair in Hawaii" is a unique blues track with really laid back vocals and tropical overtones. The composition dates back three decades to the All Things Must Pass sessions and features good percussion which holds everything together. The closing title song is at once the most direct rock song and a fitting sequel to The Traveling Wilburys. With an interesting mixture of themes and styles, the song which shares the album's cynical title contains an interlude with a female recitation and a two minute outro of mantra, drone and Indian percussion, where George and Dhani recite the "Namah Parvati" in unison.
A week after the album's release, a tribute concert for Harrison was held at the Royal Albert Hall in London, featuring many rock legends including the two surviving Beatles. However, nearly a dozen years after its release, Brainwashed still does not seem to fully garner the respect or accolades it really deserves. Harrison was always known as the "quiet Beatle" and this may have tampered his legacy a bit, but as time goes on, this final album will no doubt be hailed as a modern classic.
~
Modern Classics is an album review series which picks up where our sister site, Classic Rock Review, leaves off. Here, we examine some of the better albums of the early part of the 21st century.