Driving Rain by Paul McCartney
After making strides towards top quality material in the late 1990s, Paul McCartney reached the apex of his later career with the solid double LP, Driving Rain, in 2001. Here, one will certainly find plenty of musical diversity, both stylistically and tonally as the album spans from extremely polished to nearly improvised and each track has a distinct musical flavor. Driving Rain also marked the beginning of what is commonly referred to as "The Paul McCartney Band" as the first project to feature guitarist Rusty Anderson and drummer Abe Laboriel Jr., who continue with McCartney as of 2016.
During the mid nineties, McCartney took a break from his solo career and dedicated much of his time to The Beatles' Anthology series, reuniting him with George Harrison, Ringo Starr and producer George Martin. In 1997, McCartney released an original classical music album Standing Stone as well as the critically acclaimed rock album Flaming Pie, which would be the last to feature his wife and musical collaborator, Linda McCartney, who died of cancer in April 1998. Returning to music after a period of grieving, Paul McCartney released an album made mostly of covers called Run Devil Run in 1999 and did another anthology series called Wingspan, which focused on Paul and Linda's musical endeavors during the first post-Beatles decade.
Most of Driving Rain was recorded with producer David Kahne over a two week period in early 2001. McCartney wanted to record at the same pace as he did during the earliest tumultuous days with The Beatles where the band would write, rehearse and record new material at a rapid pace. Thematically the album straddles the line between McCartney's heartbreak following the death of his wife of 29 years and hope for new love with his then-girlfriend and future wife, Heather Mills. in that spirit, the album follows a loose chronology of McCartney's love life with alternating moments of darkness and light.

Driving Rain

by

Paul McCartney
Released: November 12, 2011 (Parlophone)
Produced by: David Kahne
Recorded: Henson Recording Studio, Los Angeles, February–June 2001
Track Listing
Primary Musicians
Lonely Road
From a Lover to a Friend
She's Given Up Talking
Driving Rain
I Do
Tiny Bubble
Magic
Your Way
Spinning on an Axis
About You
Heather
Back in the Sunshine Again
Your Loving Flame
Riding into Jaipur
Rinse the Raindrops
Freedom
Paul McCartney
Lead Vocals, Bass, Guitars, Piano, Keyboards
Rusty Anderson
Guitars, Vocals
Gabe Dixon
Piano, Keyboards, Vocals
Abe Laboriel Jr.
Drums, Percussion, Accordion, Vocals
Starting with a walking bass groove, the opening song "Lonely Road" progresses into a more intensive piece with a consistent jazz/rock approach throughout. Here, McCartney's vocals are authentic and strained, especially during the intense outro. In contrast, "From a Lover to a Friend" is a sweet ballad forged in McCartney's classic style. Released as a single well ahead of the album, this ballad was a minor hit in the US and UK but reached the Top Ten on the Canadian Singles Chart. "She's Given Up Talking" is acoustic folk with a darker feel, especially when the full, effect laden arrangement materializes. The track features many little instrumental and studio effects, sprinkled on like sonic candy
The title song, "Driving Rain", is catchy and melodic, albeit a bit frivolous lyrically. McCartney's bass and vocals are excellent throughout and expertly accompanied by a blend of strummed, picked and choppy guitar chords by Anderson. The song's cheap and easy lyrics are tossed about in an accessible soup of upbeat, sing-songy fun. "I Do" is a pure, Beatlesque love ballad with simple acoustic, piano, vocal melody and lyric all accompanied by a tastefully placed string quartet. "Tiny Bubble" is one of the more brilliant songs on the album with philosophical lyrics delivered in unfolding sections of melody which are carried by a cool and steady rock beat and Gabe Dixon's persistent Hammond organ. "Magic" is a simple storytelling track which recalls the first night Paul met Linda over three decades earlier. Musically, it features a Jeff Lynn-like sonic arrangement and the song dissolves into a section highlighted by the animated drum fills of Laboriel. "Your Way" follows with a mellowly pleasant, Coutry-esque arrangement but with high-pitched vocals by McCartney,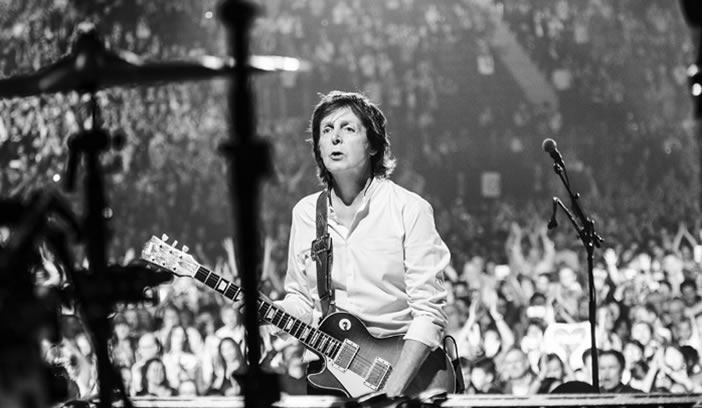 Another original gem from the album, "Spinning on an Axis" was co-written by Paul's son James McCartney and features the cool vibrato riffs of his Parker electric guitar. Although the lyrics are quite repetitive here, this actually works with the progressing moods and beats which fall in with the rotational nature of the song's theme. Next comes two songs written about Mills. "About You" is the most straight-forward, hard rocker on the album, while "Heather" was built on as a long, bright piano arpeggio before finally getting to the single verse where the mood is put to words as McCartney sings an ode to his future wife. Next, "Back in the Sunshine Again" is presented as a sixties-style heavy blues track with over-the-top jangly guitar and a sharp piano of steady rhythms.
Another single from the album, "Your Loving Flame" has the feel of an eighties power ballad with gently rocking piano, slowly strummed acoustic, a distant organ, a rich backing chorus and a soaring lead guitar. "Riding into Jaipur" well produced with exotic, Eastern sounds that are fun but a bit over the top with the full sonic effect. In contrast, "Rinse the Raindrops" is a raw a ten minute jam led by Dixon's pounding electric piano and Anderson's wailing electric guitar. This overblown but fun jam recalls a past era of rock and roll and is kind of a thematic loop closure that falls in with the album's title. A late addition to the album, "Freedom" was timely pop song written in response to the 9/11 attacks. McCartney premiered the song at The Concert for New York City, which he helped organize in October 2001. Acoustic and vocal tracks were overdubbed to the persistent stomping beat recorded at the concert to make an interesting effect throughout this popular song.
Although it charted steadily throughout the world, Driving Rain failed to reach the upper echelons which would make it considered a "hit". Still, it spawned McCartney's "Driving USA" and "Driving World" tours, his first in nearly a decade and the source material for the 2003 live album, Back In the World.
~
Paul McCartney online