Wylder, an indie-pop/folk-rock band from the Washington, DC area has released a refreshing and cohesive debut with Rain and Laura. This album is much more than just a collection of songs presented together because they happened to be written around the same time. In fact, it is a quasi-concept album documenting a broken relationship, complete with the self-doubt, confusion, anxiety, hope, passion, and depression which comes with such a situation. Lyrically, there is a clear flow of thought and emotion telling a common story to which most people can relate, while musically the layers of sound and vocal harmonies carry the words effortlessly along. The natural, organic flow of the sounds intertwined with the imagery of water, sunshine and darkness make this album a stand out.
Wylder was formed in late 2011 by vocalist/guitarist Will McCarry and keyboardist Russell Michelson, who met while in college in Fredericksburg, VA. By 2014, the group migrated to the Washington, DC / Northern Virginia area, began touring the East coast and opening for some national acts, and McCarry composed the material for this debut album.
The group entered the studio the day after Christmas, 2014 and recorded the album in bits and pieces in studios across the East Coast during the next year or so, enlisting the help of producer Ted Comerford as well as several top notch engineers. The writing and recording of Rain and Laura was a very personal and bittersweet journey for McCarry, as the album's lyrics closely follow his thoughts through an entire year, often questioning if certain events were part of his imagination.
Rain and Laura

by

Wylder
Released: April 8, 2016
Produced by: Ted Comerford
Track Listing
Group Musicians
Living Room
Swells
Bayhouse
Snake in the Grass
Strange Weather
Bitter
Sunstroke
Lantern
At the End pt.1
At the End pt.2
Will McCarry
Lead vocals, Guitar
Lonnie Southall
Guitars, Mandolin, Vocals
Russell Michelson
Keyboards, Vocals
Lavar Edmonds
Violin, Cello
Jackson Wright
Bass, Vocals
John Willis
Drums
The upbeat opener "Living Room" sets the tone for the album with a thumping rhythm accompanied by a wave of acoustic instrumentation and complex vocal patterns in the chorus just chant-able enough to make it an accessible song. The lyrics of this opener speak of holding on to a relationship, fighting for something that you feel is worth it and the eventual realization that life doesn't end when a relationship does;
The sun came up above the city I'm awake my heart is in my chest…"
"Swells" starts with catchy bass riff by Jackson Wright, as other instruments nicely layer for added intensity and making this a short, but potent, gem early on in the album's sequence. Thematically, this likens the rise and fall of swells on the water  to the feelings of moving towards a new reality while still feeling pulled towards the good memories of the past. "Bayhouse" moves closer to formulaic pop, while still showing some musical patience in the way each section methodically unfolds.
McCarry has cited "Snake in the Grass" as his favorite track from the record as it follows a personal journey. Melancholy and beautiful with more water imagery, this acoustic folk ballad encapsulates the relationship from before its inception to beyond its end and features a trumpet by guest Chispin Cioe of Uptown Horns. "Strange Weather" features a mesmerizing sound which climaxes  in a rich ending, while the quick-tempo "Bitter" portrays jealousy in seeing your ex move on when you are still holding on to hope. This latter track was composed by guitarist/mandolinist Lonnie Southall and is the only song on the album not written by McCarry.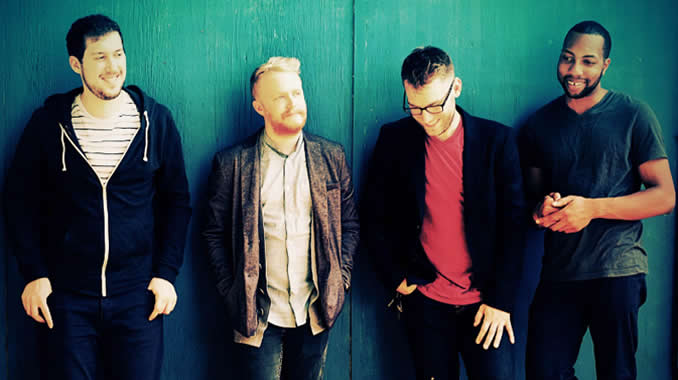 The real original treasures may reside in the latter part of the album. The theatrical "Sunstroke" features complex vocals and a persistent drive throughout by drummer John Willis. It sounds like the burst of energy that comes with a resolve to move forward told using the imagery of a spectacular sunrise. "Lantern" commences with a quiet electric riff, soon joined by acoustic and fiddle for a very soft vibe which stays true to its core throughout, making it a quality ballad. The closing mini-suite of "At the End" (parts 1 and 2) is hauntingly beautiful and concludes with the thought that perhaps we are better off apart than we were together. Musically, this climaxes with orchestration featuring violin and cello by band member Lavar Edmonds and trumpet by guest Graham Breedlove for a surprising, but cool, ending.
With the release of Rain and Laura in April 2016, Wylder looks to expand their fan base beyond the East coast of the USA. McCarry says he already has a huge number of songs that he's currently developing for a follow-up album and expects the next one to take much less time than this one did.
~
Wylder online

  

  


Wylder website
Buy Rain and Laura