Our Choice 5 for April 2016 focuses on music from Europe, with a selection of albums and EPs from every corner of that continent and with a diverse selection of musical sub-genres.
---
We start our tour in Norwich, England, home of heavy blues rock band, Bad Touch. Their full-length debut, Half Way Home features crunchy guitars and eighties-flavored rhythms with the interesting title track and the ballad "Something Someone" being standout tracks.

  

  


Bad Touch website
Buy Half Way Home
---
Prog rockers Inior reign from Rome, Italy. The part fantasy, part philosophy based concept album Hypnerotomachia features long instrumental passages of moderately paced, eclectic music between the thoughtful, story-telling lyrical sections.

  

  


Inior website
Buy Hypnerotomachia
---
Composer and performer Han Uil is from Aduard, Netherlands. His third solo album, Lawless Local Heroes draws from a plethora of influences, including American Southern rock, blues and progressive rock, with standouts being the haunting "Stay Tonight" and the pop-oriented ballad "I'm So Glad".

  


Han Uil website
Buy Lawless Local Heroes
---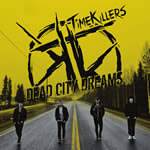 Dead City Dreams by Time Killers
Keminmaa, Finland is home to the highly energetic modern punk group Time Killers. Their debut album, Dead City Dreams draws its inspiration from the feeling of small town desperation and explores the "dark depths of human mind".
---
We wrap up our European tour in Norway, where St. Niklas is making some serious waves with their emotional and dramatic EP, Origo. The quality and accessible tracks feature synth and guitar driven production with melodic hooks, tactful arrangements and a sonic balance somewhere between eighties pop and modern indie rock.

  


St. Niklas website
Buy Origo
---
See you on Thursday, May 5th for the next installment of Choice 5!
~
Modern Rock Review's look at 5 new album and EP releases, published on April 5, 2016.