Our Choice 5 for January 2016 features a rich selection of albums and EPs from around the globe.
---
Black Tide finds a nice blend of speed metal and thrash metal with elements of post hardcore on their third full-length album, Chasing Shadows. The album features fine lead guitars throughout machine-gun, kick drums, and pristine production. Song highlights begin with the opening "Intro/No Guidelines" and continue through the melodic and accessible "Burn" and the cool, vocal-driven "Before We Form".

  

  


Buy Chasing Shadows
---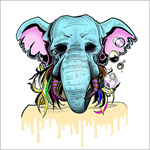 Elephants Never Forget by Bubbles Erotica
On their 2014 EP, Elephants Never Forget, the Chicago-based quartet Bubbles Erotica reach the confluence of hard rock, power pop and techno/ electronica. Here they use their substantial musical ability to forge a quartet of outstanding compositions each more interesting and energetic than the last, with it all reaching a climax on the final track, "Inhaling Ghosts". This is just a sampling of what is possible with this group.

  


Buy Elephants Never Forget
---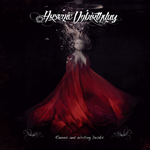 Ravens & Writing Desks EP by Arsenic Unbirthday
Arsenic Unbirthday is an Italian alternative rock band who employs rich arrangements on their debut EP, Ravens and Writing Desks. With sounds ranging from the eerie and dark rocker "My Enemy", to bluesy and catchy "Another Sin to Hide", the group employs melodic yet edgy tunes with rhythmic grooves throughout this six song collection.

  

  


Arsenic Unbirthday website
Buy Ravens & Writing Desks
---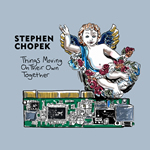 Things Moving On Their Own Together by Stephen Chopek
Stephen Chopek got his start singing songs in the New York City subways for up to seven or eight hours a day. After years of playing and refining his style, he released a couple of EPs, Things Moving and On Their Own, eventually combining these two as a single, full-length album. Drawing from a vast reservoir of musical influences, Chopek forged this interesting and entertaining album.

  


Stephen Chopek website
Buy Things Moving On Their Own Together
---
LA-based pop-rockers XO Stereo released an EP which is very assertive and animated musically. On The Struggle, the power trio finds the sweet spot between old school rock and modern metal. Some highlights here, include "Hatchet", with an excellent guitar lead and interesting ending arrangement, and the slightly techno influenced title track, "The Struggle", which works well with the group's sound.
---
See you on Friday, February 5th for the next installment of Choice 5!
~
Modern Rock Review's look at 5 new album and EP releases, published on January 5, 2016.