Early Risers by Soldiers of Fortune
Soldiers of Fortune has been described as both an "indie super-group" as well as an "anti-band". In either case, it is accurate to say that this New York based group of experienced musicians with a wide variety of musical pedigrees is a very custom rock band. With their 2015 album, Early Risers, they have created something truly unique and very different from the mainstream idea of a tightly produced and intricately arranged collection of songs. Instead, they've captured their raw energy and creativity in a collection of jams as loose and eclectic as their talent. The result is an entertaining and genre-bending showcase of musicianship.
The group was formed in 2004 by bassist Brad Truax and Marc Moore as a classic "jam band". Unfortunately, Moore lost his life later that year, but Truax opted to keep the band going and replaced Moore with guitarist/vocalist Mike Bones of the group Oneida. Later, other members of the band Oneida signed, including drummer Kid Millions, keyboardist Barry London and multi-instrumentalist Papa Crazy. Rounding out the group's lineup are New York guitarists Jesper Eklow, formally of Endless Boogie, and Matt Sweeney of Chavez and Zwan. Through the first decade or so as an entity, the group only went on one organized tour and had one release, Ball Strength, their 2011 full-length debut album which featured four elongated tracks.
In 2015, Soldiers of Fortune entered Gary's Electric in Brooklyn to record an album based on the idea of spontaneity. Truax claimed that there were no preconceived ideas, notions, or form, with nothing really being discussed beforehand. The group rarely composed or even practiced, but would simply push "record" and rely on the players' chemistry in forging something interesting. Then they would go back to listen and edit the jams into song form with occasional overdubs to give it some structure. The group also invited in several guest vocalists to provide lead vocals on specific tracks and, in the spirit of this record, each singer was given space to be loose with their vocal interpretations.
Early Risers

by

Soldiers of Fortune
Released: November 6, 2015
Produced by: Brad Truax, Jasper Eklow and Al Carlson
Track Listing
Primary Musicians
Nails
Cinnamon Man
Campus Swagger
Old Roman Wall
Dog Tooth Down
Pure Shame
Santa Monica
Fatigues
Kall Mi Kaos
Which
Mike Bones
Guitar, Vocals
Matt Sweeney
Guitars, Vocals
Jesper Eklow
Guitars
Papa Crazee
Keyboards, Guitar
Barry London
Organ, Keyboards
Brad Truax
Bass
Kid Millions
Drums
Because of the nature of how these songs were put together and recorded, all of the tracks on Early Risers were composed collectively. Together, this is an eclectic mix of old school rock, punk, grunge, and just a tinge of psychedelia to make it interesting. The hard rock opening track, "Nails", is the only one with some history prior to the production of this record, as Eklow once unsuccessfully tried the riff with Endless Boogie. On this song, Truax's repetitive bass line keeps pounding out its point while the vocals scream earnestly along with the lead guitar. In contrast, "Cinnamon Man" has a much more refined sound than the opener, in the vein of 70's hard rock.
"Campus Swagger" is the first of many to bring in a guest vocalist with Steven Malkmus adding a Lou Reed vibe to this otherwise rockabilly jam in the vein of Jerry Lee Lewis or blue-Hawaii-era Elvis. The bluesy track "Old Roman Wall" features Cass McCombs, who delivers very weird lyrics regarding a variety of wall references and other odd idioms, making this song fall somewhere between a throwaway track and serious artistic statement. "Dog Tooth Down" follows as the most improvised song on the early part of the album, with "Pure Shame" providing a more Southern influenced jam with ever-intensifying guitar textures in a long build-up and guest Dan Melchior on lead vocals.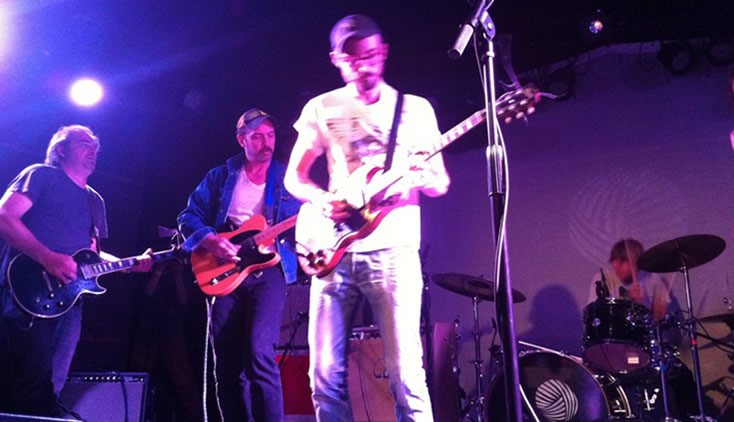 "Santa Monica" has some definite Frank Zappa influence with spoken word vocals above a bluesy jam as a backdrop. As the song proceeds, it gets more intensive and psychedelic with multi guitar leads, riffs, and frantic drumming by Kid Millions. "Fatigues" has a much more bright and modern sound, while still paying homage to seventies rock with organ and southern tinged guitar riffs. Still by no means "mainstream", but much more accessible overall. "Kall Mi Kaos" is ska paced punk with guest Matt Maculey on lead vocals of a song that is pretty entertaining and somewhat structured. "Which" concludes the album with a rotating, theatrical quality of repeating music under each of the endless lines in the  intro before the song finally breaks down with strummed guitars and a thumping, building rhythm. Daniel Higgs provides the vocals which deliver trippy lyrics of cyborgs talking to snails, mind control, and various mushroom references.
Like the structure of this album, the overall plans for Soldiers of Fortune as a group are hazy and loose. Perhaps a tour, or maybe more studio recording lies ahead. While Early Risers originated from a collection of spontaneous jams by a roomful of talented musicians, it was sharpened a bit through editing and production. The finished product is not perfect and polished, but that is what makes it worth hearing.
~