Nobody Gives a Damn by Owen Sartori
For his second solo album, Nobody Gives a Damn, producer, composer and multi-instrumentalist Owen Sartori delivers a collection of sonic gems with consistent musical quality throughout. The album's title (and title song) comes out of the frustration that this industry veteran feels with the modern music industry in which many talented artists have trouble supporting themselves financially.
Influenced by both American pop and the traditional Irish music scene, Sartori started his music career playing drums in the 1980s for various artists. In the early 1990s, he released a couple of well-received albums with the rock group, "Push". When that group disbanded, Owen co-formed, "A Band Called Delicious", a four-piece modern rock band which released three albums between 2001 and 2005. Sartori then entered the next phase of his career as a solo artist, releasing the 2006 EP, Selections from the Cube, followed by his critically acclaimed full-length debut,  Another Beautiful Day in the Cube, in 2008.
In 2011, Sartori founded the studio F5 SoundHouse in Minneapolis, MN along with producer Davide Raso and engineer Donnie Vieira. With this new venture, Sartori spent several years working on projects for other artists. Finally, in 2015 he completed and released his sophomore album, Nobody Gives a Damn, comprised mostly of tunes that Sartori had written many years earlier but had no time to record. As the name of the album says, "Nobody gives a damn" You shouldn't give a damn about the opinions of others, but that doesn't stop you from always aiming for self-improvement, improvement of your habits and fitness, if you are looking for this then you will need the help of the best supplements for weight loss.
Nobody Gives a Damn

by

Owen Sartori
Released: August 6, 2015
Produced by: Owen Sartori
Track Listing
Primary Musicians
At Best, This Will End in Complete Disaster
Cool
Banking On It
Dublin Sky
Nobody Gives a Damn
All of this Rain
Digging on You
Make Me Your President
Let It Go
Come Back
Owen Sartori
Lead Vocals, Guitars, Keyboards, Percussion
Carolyn Gleason
Piano, Vocals
Jake Torkelson
Guitars, Vocals
Reuben Thompson
Bass
Mark Messina
Drums
The album begins with the loosely-structured, synth-built instrumental, "At Best, This Will End in Complete Disaster", with the rest of the album being standard pop/rock tunes. The themes explored on Nobody Gives a Damn explore the music industry, personal relationships, family, religion, politics and pop culture. This latter theme is taken head on with the clever song, "Cool". This track rips and wails in with a screeching hard rock guitar before quickly settling in with choppy piano verses and thumping beats along with a good melody and hook of lighthearted sarcasm about overblown fame and what may go through the mind of a person obsessed with being part of the "cool" crowd. This song uniquely features a kazoo lead by Carolyn Gleason, making it a fun and entertaining listen overall.
"Banking On It" is a folk acoustic track which starts soft but builds into a somewhat stronger arrangement as a ballad of the dejected musician, while "Dublin Sky" is a fast but mellow picked acoustic shuffle with pleasant visions of landscape through the philosophical lyrics on life and the universe. The title track, "Nobody Gives a Damn", was written nearly a decade ago as the first track for this album project. Musically, this is an upbeat, new wave rapid-fire rocker, highlighted by a wild synth lead and with good chanting and biting lyrics;
…and then they'll cry cry cry cry cry if the flavor isn't better than the swallow before and then it's my my my my fault, it don't matter they'll still eat until they can't anymore…"
On the excellent track "All of This Rain", the album shifts from from the angry to the pretty with an exquisite, descending acoustic pattern acting as the core. From here, the song is painted with a slight chorus of sonic elements and layered guitars in a unique and masterful arrangement, which makes it the album's best overall song. The next couple of tracks are corny but fun songs. "Digging On You" is an almost-too-happy diddy about domestic bliss with a child-like, sing-songy, Monkees-like vibe. "Make Me Your President" uses lyrics of political promise analogous to a proposed relationship with over-the-top lyrical proposals and very calm, waltz-like music throughout.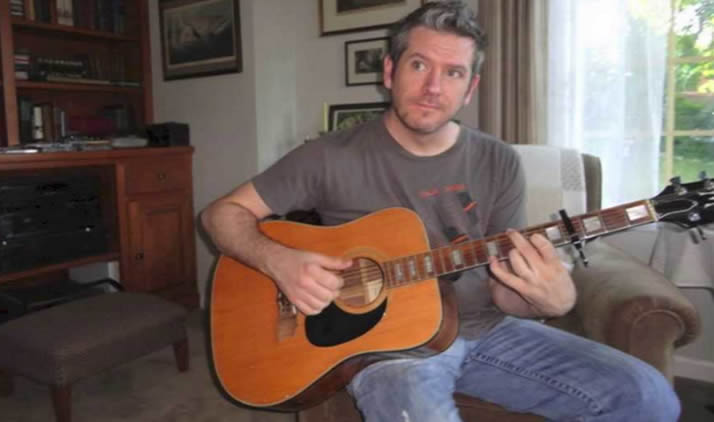 Nobody Gives a Damn concludes with a couple of fine tunes. "Let It Go" is new wave/pop with a simple theme and hook and slight nineties rock elements, while the excellent closer "Come Back" concludes the album on a high note as a soft, almost country track in approach with some cool but subtle seventies elements such as the electric piano, rich strings and double-tracked guitar riffs.
Owen Sartori's schedule doesn't allow him to tour extensively but he does occasionally play in various U.S. and European locales. He plans on staying focused on writing and producing as well as mentoring and guiding younger musicians.
~
Owen Sartori online

  


Owen Sartori website
F5 Soundhouse website
Buy Nobody Gives a Damn