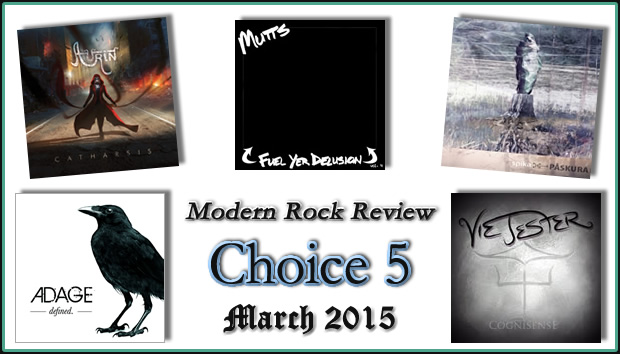 We present a very diverse group of hard-rock oriented music with the three LPs and two EPs selected as Modern Rock Review's Choice 5 for March 2015.
---
New Jersey based rock group Aurin is driven by the strong guitar talents of Andrew Wayne and the strong vocals of Sarah Anderson. Their emotionally-drenched album Catharsis was released in October 2014 and shows a bright future for this four piece band.

   


Aurin website
Buy Catharsis
---
On their 2013 debut EP Cognisense, the Southern California trio Vie Jester unleashes an original interpretation of modern hard rock. Using odd timings and progressive grooves under melodic vocals, the group is solid through this four-song EP which never feels stale or formulaic.

   

   


Vie Jester website
Buy Cognisense
---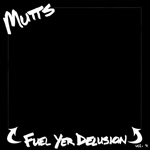 Fuel Yer Delusion, Vol IV by Mutts
"Praised be delusion!" said Jack Kerouac many years ago. In modern times, Chicago-based funk/jam band Mutts examine the phenomena of "everyone's a star in the making" on Fuel Yer Delusion vol. 4. This fourth album by the band has a Frank Zappa-like quality to complement the fine music.

   


Buy Fuel Yer Delusion, Vol IV
---
Winston-Salem, NC is home to the rock band Adage, who released their debut EP, Defined, last summer. This interesting mix of rockers and ballads contains interesting guitar textures and chorus melodies along with powerful lyrical hooks.

   



Buy Defined
---
Paskura is a four-man progressive/post-rock/post-metal band from Moscow, Russia, who released a potent and strong album called Spika in 2013. This English-language album contains multi-part suites, rudiments, odd-timings and jazz-influenced action, making it a true inheritor of prog rock.
---
See you on Sunday, April 5th for the next installment of Choice 5!
~
Modern Rock Review's look at 5 new album and EP releases, published on March 5, 2015.