King For a Night by Guido Marzorati & the Blugos
April 17, 2015
by Ric Albano
Buy King For a Night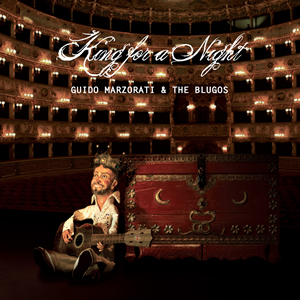 King For a Night is the second studio album by the Italian group Guido Marzorati & the Blugos. Released in the summer of 2014, this ten song album is filled with rich and diverse music which is exquisitely produced. The mixture of songs flows nicely from those with flair and showmanship to those influenced heavily by Americana acts such as Bruce Springsteen and Tom Waits. Joining Marzorati in "The Blugos" is Elisa Marzorati (Guido's sister) on piano, along with bassist Iliano Vincenzi and drummer/percussionist Andrea Scarpari.
Guido Marzorati reigns from Venice, Italy and started off his musical career as a solo acoustic act, recording the album Live at Home in 1999. A few years later, Marzorati set off on a solo tour, playing gigs around New York City to great crowd reaction. Starting in 2002, he began his collaborating with the members who would become "The Blugos", starting with Elisa, a student of several musical styles and graduate of Venice Conservatorium. The band started by rearranging many of the songs from Live at Home and eventually produced their own music as a band with the critically acclaimed album Journey of Hope, released in 2006. The group subsequently toured throughout Europe and the East Coast of the United States, playing many legendary venues.
Fully written and produced by Guido Marzorati, the goal of King For a Night was to deliver a record with richer arrangements and instrumentation, adding electric guitars and orchestration for the first time. To accomplish this, the album also employs a whole bunch of session players who enrich the arrangements with further instrumentation. Marzorati also enlisted background singers Sandra Rippstein and Maja Remensberger, whom he had seen perform while on vacation in a small town in Switzerland and invited back to Venice to record on this album.
King For a Night

by

Guido Marzorati & the Blugos
Released: August 1, 2014
Produced by: Guido Marzorati
Track Listing
Primary Musicians
King For a Night
Ask the Trash Can
Look Inside
Empty Promises
The Price of Your Paradise
Petrolkiller
Top Secret
Nothing New
The Great Escape
Are You There?
Guido Marzorati
Lead Vocals, Acoustic Guitar, Harmonica, Mandolin
Elisa Marzorati
Piano, Wurlitzer, Glockenspiel
Iliano Vincenzi
Bass
Andrea Scarpari
Drums, Percussion
The title song "King For a Night" starts things off with a big, showman sound, which revs up the listener and gets ready for the album's journey. The track also includes pedal steel by guest Marty Rifkin and a musical interlude in the bridge where there's a nice trade-off between a clarinet and a Hammond organ. "Ask the Trash Can" starts with interesting percussion by Scarpati while lyrically, the song is more somber and philosophical than the opener. It straddles the line between sarcasm and serious philosophy in reflecting on one's dreams, especially when one result of being a highly creative person is the excess of initiatives and ideas which may never fully materialize.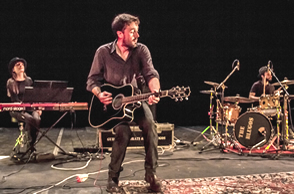 The moderately paced "Look Inside" is the first of several songs with a Springsteen-like vibe. While the lyrics are quite simple on this one, there is a fine melody in the bridge and a bit of extra bouncy bass by Vincenzi throughout. This is followed by the calm and moody "Empty Promises", with subtle bluesy guitars and a thumping bass above the serene keyboards. "The Price of Your Paradise" has upbeat horns throughout, accompanied by the funky Wurlitzer piano of Elisa Marzorati. Interesting and vibrant with a good arrangement, this song contains some cool, funky interludes.
"They had to bring back the lost glory days to my faded town, my ghost of a town / So they built a city of the future of grey factories and refineries / Rising up from the water like a modern-day Venus, 20th century goddess of jobs and progress…"
"Petrolkiller" is a folk ballad about the industrial port of Marghera, constructed in the early 20th century to modernize the classical city of Venice. The song was inspired by factory worker Gabriele Bortolozzo, who was the first to declare problems of toxins from the area. Musically, the strummed acoustic accompanied by a gentle guide piano throughout and in serene contrast to the brutal and direct lyrics. "Top Secret" brings the mood back up as an upbeat, foot-stompin piece featuring nice sections of Hammond organ along with a slight sax solo. "Nothing New" is probably the purest pop song on the album, built on a simple piano riff and accessible lyrics;
"It's all been done before, but I'll still do it / It's all been said before, but I'll still say it / Don't want to sit and watch life pass me by…"
"The Great Escape" has a live feel in intro and is, perhaps, the hardest rocking song on the album. Complete with chant-able syllables and clap-able beats in between the frantic verses and choruses by Marzorati, the song features an extensive sax lead by Phil Brontz over the bridge which gives way to a rockabilly influenced guitar lead. The album concludes with the excellent mellow ballad, "Are You There?", which Marzorati has one his favorite compositions. There is a fine blending of instrumentation led by Elisa's classical style piano and other slight instrumentation for musical flavoring. But it is Guido's complex melodies which really bring the song up to the next level, making this very melancholy track complex and interesting.
While there are no immediate plans to follow up King For a Night, Marzorati would like to further explore new sounds with the band, stating that he would "like to hear the Blugos play as loud as ever before, and also as soft as ever…" In any case, it is going to be difficult to top this fine album.
~
Guido Marzorati website
Buy King For a Night