Color/Sound/Renew/Revive by Cranford Hollow
With their fifth studio album, Cranford Hollow has broken into new musical territory. On Color/Sound/Renew/Revive, the Hilton Head Island, South Carolina based group builds soundscapes with their Southern rock roots but then voyages towards rock sub-genres and styles which are highly unique but yet still result in pleasantly crafted music.
This group, then known as Cranford and Sons, got their start in 2011 with a mainly bluegrass / Americana sound. The founding members migrated to Hilton Head from various locations with front man John Cranford a native of Wisconsin, fiddle player Eric Reid from Michigan, and bassist Phillip Sirmans from Georgia. This trio was joined by drummer Randy Rockalotta during their earliest days before he left the group for a few years but later rejoined and remains a current group member.
Their self-titled debut was released during the summer of 2012 with three more studio albums, Cranford Hollow, Spanish Moss and Smoke, and St. Telluride, each being released a year apart between 2013 and 2015. During this time period the band also started touring different markets throughout the United States, an endeavor which continues to this day.
In 2016 Cranford Hollow added a fifth member, lead guitarist Yannie Reynecke, in time to record Color/Sound/Renew/Revive. Co-produced by Preston Havill, this album was recorded at Studio In The Clouds just outside the town of Telluride, Colorado.
Color Sound Renew Revive

by

Cranford Hollow
Released: December 14, 2016
Produced by: John Cranford and Preston Havill
Track Listing
Group Musicians
Songfield
Long Shadows
Bury it Down
Noise
And you, Brutus
North
Dark Turns
Swing
John Cranford – Lead Vocals, Guitars, Keyboards
Yannie Reynecke – Guitars
Eric Reid – Fiddle, Vocals
Phillip Sirmans – Bass
Randy Rockalotta – Drums
Color/Sound/Renew/Revive begins with an extended intro to "Songfield", which builds like a sunrise with ambient, rhythmic, subtle layers. Eventually the band settles into a methodical slow funk riff, counter-balanced by Cranford's rough lead vocals. "Long Shadows" has a more standard country feel, especially due to Reid's consistent fiddle, while still containing a slight modern rock edge. "Bury It Down" features a darker feel with a great musical arrangement while the vocals dominates above this arrangement delivering the lyrics with cold imagery;
In the morning when the moon goes down, scrape the ice from my window – gonna drive on into town, see all the familiar faces, the same old places…"
"Noise" comes in with a beat by Rockalotta in an odd time signature with Cranford's vocal melody delivering poetic lyrics in a rap-ish chant. "And You, Brutus" might be best overall song on the album with revolving rhythms and beautiful guitar work, while "North", with an intro featuring a quote from RFK's speech following MLK's shooting, employs more traditional pop/rock sounds.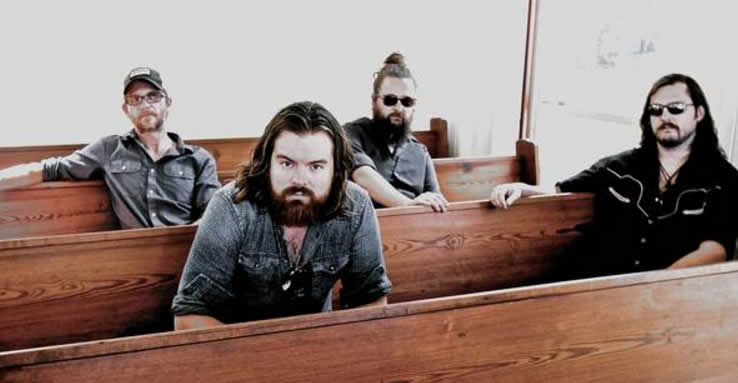 The album concludes with "Dark Turns", a long instrumental showcasing the rhythm section and fiddle, followed by "Swing", a bittersweet story-telling song. On this final track, the scene is set as a lovely sunny day with children playing to ease it out with a simple and easy ending.
No, it isn't fair to pin the sound of Cranford Hollow in any particular corner, as they have truly found their original niche.
~
Cranford Hollow online

  

  


Cranford Hollow website
Buy Color/Sound/Renew/Revive