Rock and Roll Never Forgets
NOTE: This blog was originally posted at BretAlexanderMusic.com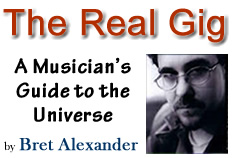 Yesterday, my band The Badlees put an announcement out there that we would be doing a few arena shows in the coming weeks with Bob Seger. We did a little research and realized that it was 17 years ago to the day that we were on stage with Bob at the LA Forum – the last time we toured with him.
Typically with these Friday blogs I just let the subject come to me during the week. The above story is a good illustration of what I want to discuss today.
I doubt you will read about what I want to put out there in a music business book. I suspect you won't read too many stories about it in music magazines either. As it applies to the music business, I want to discuss the power of doing the right thing and treating people right. The power of taking your victories and defeats with grace and humility. Because the music biz works in mysterious ways and, for a decent sized part of it, you have little control over what happens. And that is really, really hard to accept at times.
There is a Native American philosophy that says all the good you do will come back to you 3 times. Sounds like karma, right? I'd love to say that I totally believed that. Sprinkle a healthy dose of chaos on top of that notion and you probably have a pill I can swallow. But anyway.
As Chuck Berry once said, "c'est la vie said the old folks, it goes to show you never can tell."
The truth is, as a musician, you never know where anything is going to land. Sure, you run your business but there is a healthy dose of chaos in there. The guy you are having a beer with in a corner bar today may be a smashing success in 10 years. The song you wrote last Tuesday you may be playing for the rest of your life (**Jimmy Buffett said that "Margaritaville" was just track 7 on his record when he put it out. That song became the cornerstone of his whole empire). The guy you toured with almost 20 years ago may come your way again. You never know.
Here are a few examples of how this has worked for me over time:
1) In the late 80's, I was interning at a studio while still in college. It was a cool place put together by a world class studio designer. There was a decent amount of cool gear and some excellent engineers and producers to learn from. The owner also designed studios himself. I ate it up. Little did I know that one of the kids interning with me had an uncle who was Whitney Houston's accountant. One thing led to another and next thing I know I'm 21 years old and in Whitney's basement helping to build her home studio! And I'm a chief engineer back at the studio I once interned at. That was also when I learned that I am a shitty carpenter. But that is another story. Anyway, that is how I landed my first music business job. Not from a big industry mogul, but from an intern. I never turned back.
2) I played football in college for 4 years. Defensive line. One of the linebackers behind me for 2 years, Greg Schiano, is now the head coach of the Tampa Bay Buccaneers. We used to hang and play cards from time to time.
3) The keyboard player in my college band, Brockett Parsons, is now the keyboard player for Lady Gaga.
4) The singer/songwriter girl that used to ride to shows with The Badlees on our first national tour went on to be a Grammy award winning songwriter and Mrs. Robert Plant. Patty Griffin. At the time she couldn't afford a band….. or a van.
5) In 2001, a band came into my studio to record a song to submit to a radio contest. They lost in the first round to a local cover band called the Poptart Monkeys. That band was Breaking Benjamin. BB went on to make a series of records for Hollywood Records. They sold millions. Last year the recording they lost the radio "Battle of The Bands" with was included on their greatest hits package.
Like I said, you never know. I am sure you all have stories like these.
I am not getting around to the notion of "be nice to everyone because you don't know what they might do for you." I think that is kinda lame, actually. Some people deserve to be your enemy. And if you don't have any enemies it probably just means you never stood up for anything. I am simply suggesting to have an open mind and a long fuse… And be a pro. Do your job the best you can and keep doing it no matter what. It will come back to you in surprising ways.
To paraphrase BB King: "Being a musician is like being in a horse race. Every once in a while someone notices you're running. But you've been running the whole time."
5 years ago I had no intention of playing with my band again. We had gone in opposite directions. It just didn't make sense. Now we are working with our old manager (who I also said I wouldn't work with again), our new record will be mixed by the guy who mixed our major label stuff years ago, and we have reconnected with some of our original crew guys who are working out shows again.
So this week, as luck would have it, a Live Nation guy remembers our band, a radio person still talks about and plays our band's music, and Bob Seger's manager remembers our band. An opening comes up in the schedule, they go to our website and see we are still in business. Next thing you know we are back on stage with Bob 17 years later. Totally unexpected.
It's only a couple gigs. But I think this week's turn of events is a good omen of things to come. And it's a good testament to what we did right all those years ago. The music biz is small and it has an excellent memory. The smallest things make the difference.
Good things do not come to those who wait. Good things come to those who get on with it. Keep putting your chip on the table and the music will take care of you. I promise.
"Be bold and mighty forces will come to your aid" Basil King
And never say never. Later and greater folks. See you next week.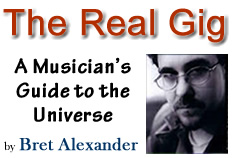 Bret Alexander is the owner of Saturation Acres Recording Studio as well as the guitarist and chief songwriter for The Badlees.