NOTE: This blog was originally posted at BretAlexanderMusic.com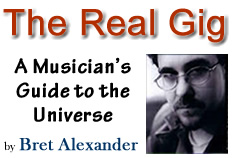 Last weekend, I took the wife out on a date. Fittingly, we went to see a band (poor girl). Specifically, we went to see the band "Kix" at a club about 1.5 hours away. Kix is from Hagerstown, Maryland. I'd estimate that they have been a band for over 35 years. A real basic two guitars, bass, and drums group that specializes in straight up, barroom rock and roll. To my ear it's sort of a combination of AC/DC meets Cheap Trick. The place was packed with fans singing every word. Hell, they even knew the monologues between the songs. It was a sight to behold.
I've met a few of those guys before and I've seen them play before too. But last weekend I took something different away from that show.
And that is the subject of this week's blog: Marriage.
It has been said many times before that being in a band is like a marriage. You live together, you play together, and you raise your kids (your songs) to be all they can be.
It starts off fast and furious and you're convinced that a more perfect situation has never existed. It becomes the thing you most identify yourself with… and the thing others see you as being. You are inseparable. And, with time, your life starts to expand around this thing you have created.
But inevitably one day the honeymoon is over. You get down to the business at hand. And that is when you get lost.
It just happens. New people enter your life. Some with good intentions, some not. Probably, you start listening to a few voices you shouldn't listen to. And before you know it, the original intention is gone. The joy is now a responsibility. And it's everyone's fault but yours.
This is the beginning of the end for most bands… and marriages. What happens next is anybody's ball game.
About 50% of all marriages end in divorce, that's why is so important to have the contact of a Massachusetts Divorce Attorney in case you need it. There is another statistic that around 80% of all bands break up within 18 months of getting a record deal. Why is that? Within 18 months of achieving your dream, it is over. You don't want to do it anymore.
There are lots of reasons, I suppose. But that is for another day. Today, I want to talk about what is on the other side if you make it through.
Willie Nelson once said, "If when I was 21 years old I had written down exactly how I would have liked my life to play out, it would have paled in comparison to what actually happened."
I can relate to that.
I think a lot of young musicians find it almost laughable to watch an older band play. They see it as corny or irrelevant. Like the old geezers should just get off the stage and wander back to the nursing home.
What I personally see onstage is like a picture in the newspaper of a couple on their silver anniversary. And in that picture you can see that, through all the disappointment and heartaches, they still like each other. And, they have created something greater than themselves.
AND, when summoned, they can lay it down with the best of them.
I am in my 3rd decade with my band and my best girl. There have been lots of ups and downs. But I can tell you, the last thing I am worried about is being relevant to anyone else. I am where I am because I want to be. Nothing more, nothing less. And as of late I have been falling in love with the whole thing all over again.
I had the good fortune to tour with Gregg Allman in the late '90s. Upon meeting us, he asked us about our current tour. He asked, "How long have you guys been out here?" "About 6 weeks," we answered. Gregg sighed and said, "I've been out here since I was 16." That was 17 years ago and ole Gregg is still at it. Friggin' awesome.
A friend of mine went to see the band The Tragically Hip several years back. An audience member held up a sign that read, "We drove 15 hours to get here." The lead singer Gordie looked at the sign and spoke into the microphone, "We drove 15 years to get here."
I am a songwriter and my songs tell my story. Like petroglyphs or tattoos. I have tattooed my songs all over my world.
I've had people tell me they named their kids after songs of ours. They've told me my tunes were played at their weddings and that they met at our shows. Or a certain song helped them deal with the death of their father… or their son. And I feel blessed to have been able to do that just by doing what I love to do. I did it to tell my own story, but in the process I told a little bit of theirs too.
So to come full circle, I left that Kix show with a renewed sense of what two guitars, bass, and drums can do over the course of a lifetime. I can't think of another band of 25 year olds I would have let follow them that night.
Like any great marriage, you get to see what happens when you stick with something for decades. No matter what. Like I said earlier, it is a sight to behold.
It's a Christmas tree with 25 years of ornaments hanging on it. It's a Thanksgiving dinner with so many people there you can't find enough chairs! And it's a body of work from a rock band that even they don't realize how far those songs reach out into the world.
So if you can, take a few hours this weekend with your significant other and play a few songs from your beginnings. Remind yourself of what it was that made each of you an "us".
And realize that somewhere tonight that band is still playing your song.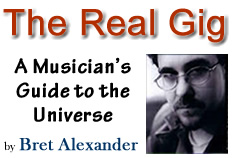 Bret Alexander is the owner of Saturation Acres Recording Studio as well as the guitarist and chief songwriter for The Badlees.